Choosing the right steel for a knife is really a tricky task because each material comes with some pros and cons. Not any steel is perfect in every parameter.
Today we are going to discuss two very popular steel types namely S30V and 154CM.
Let's understand what we are going to cover in this article about these two steel types:
Brief history and origin of steel.
What they are?
Chemical composition.
Hardness
Edge retention property.
Uses
So without further ado…
Let's walk you through this detailed guide about 154cm and S30v.
Does S30v Stainless Steel Good For A Knife?
S30V is Martensitic stainless steel, which is an example of the balanced chemical composition of Vanadium which is known for providing hardness, and Chromium which is known for providing wear resistivity to the steel.
In this chemical composition, the manufacturer tried to promote the formation of Vanadium carbide instead of Chromium carbide.
This is why S30V steel comes with excellent toughness than the other steels whose hardness score in some benchmark tests are high.
This is a premium quality steel that was launched in 2001, by Crucible and is a very popular steel type for those who want optimum performance from steel.
CPM S30v Or S30v Chemical Composition
S30V has 1.45% Carbon which is a little bit large in percentage than the 154CM has, Carbon is known for providing toughness to steel. According to the Transverse Charpy C-notch test results there is no difference in the longitudinal toughness of both steel but S30V has much higher transverse toughness and this is the reason why S30V has excellent resistivity against chipping and breaking than the 154CM. 4% Vanadium in S30V is helpful to add wear resistivity and hardening properties to the steel, but it is lacking in 154CM.
The Main Chemical Components In S30v
| | | | |
| --- | --- | --- | --- |
| Carbon | Chromium | Vanadium | Molybdenum |
| 1.45% | 14% | 4% | 2% |
CARTA test results show that S30V has better edge retention capability than the 154CM. Apart from other common chemical substances, it has 0.03% Sulfur to improve the machinability of the steel (S30V).
Advantages Of Using A Knife Based On S30v
S30V is used in making wear components for food and chemical processing.
In making Pelletizing components.
In making Screwa and Dies (plastic injected).
This is a decent steel knife for use in a humid environment.
Our Recommended Best Knives Based On S30v Steel
Spyderco Para Military Steel Blade With G-10 Handle
Full Flat Grind.
Made In the USA.
3.42″ Blade & 8.24″ Length
View the current price here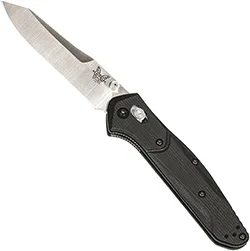 Benchmade 940 EDC Manual Opening And Closing
Reversible, Lightweight, Locking Blades
G10 Handle, G10 Handle
Alloy Steel
View the current price here
Also Read: Vg10 Vs 154cm: Similarities & Differences
Does 154CM Good For A Knife?
154CM that is also known as CRM 134 or CRM 154 was developed in 1959 by Crucible. At that time the percentage of Chromium had not been firmly determined and this would be the reason behind adding the suffix "CRM" before 154.
It is stated by Crucible that 154CM is a modified version of 440C steel. What they did was they reduced the percentage of Chromium and increased the percentage of Carbon in the chemical composition of 440C to develop 154CM. The effect of this small change in the chemical composition is that 440C is lead to better hardness on 154CM steel than the 440CM.
154CM is an Aerospace grade steel that is also used in making cutlery.
154cm Chemical Composition
154CM has 1.05% carbon which is 0.40% less than the S30V, but the percentage of Vanadium is 2% higher than the S30V. The 4% Molybdenum helps bearings to operate at high temperatures because 154CM is specially designed for bearing.
2% Molybdenum is added to the chemical composition of S30V which is 2% less than the 154CM. The percentage of Chromium is the same in 154CM and S30V, which is responsible to add tensile strength, better edge retention, and corrosion-resistant properties.
The Main Chemical Components In 154cm
| | | | |
| --- | --- | --- | --- |
| Carbon | Chromium | Manganese | Molybdenum |
| 1.05% | 14% | 0.50% | 4% |
Apart from all the common carbides it has some additional elements such as 0.5% of Manganese, 0.8% of Silicon, 0.03% of Phosphorus, and 0.3% of Sulfur. This is an old steel type according to the current knife standard and is most commonly used in making knives, cutlery, etc.
Advantages Of Using 154cm Based Knife
154CM is an easy-to-sharpen steel type as compared to S30V.
154CM has high Chromium percentage that makes it stainless steel. It is rust-free steel.
Chromium also enhances its corrosion resistivity.
It is a tough steel.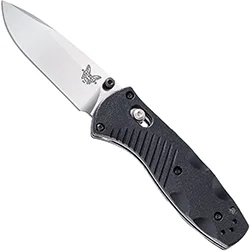 Benchmade Mini Barrage 585 EDC Knife
The 154CM stainless steel blade.
Stainless Steel Handle.
Satin Finish
View the current price here
154cm Vs. S30v: Specification
Microstructure Comparison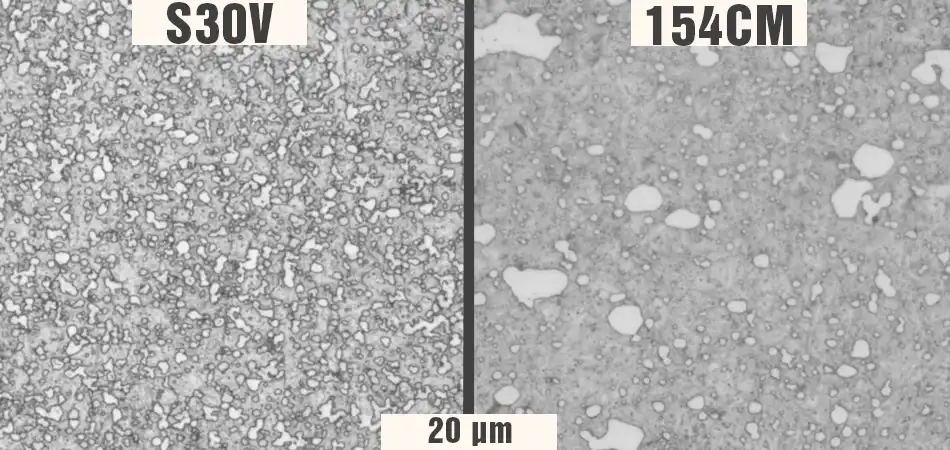 It is clear from the above image that the carbide structure of S30V steel is finer than the 154CM.
Type Of Steel
S30v is a byproduct of metallurgy powder. The powder consists the melted alloy particles. On the other hand, 154cm is not powder steel (its other variant CPM154 would be a powder variant), but it is a commonly used steed that is common in some higher-grade knives.
Chemical Composition Comparison
| | | | | | | | |
| --- | --- | --- | --- | --- | --- | --- | --- |
| | Carbon | Chromium | Manganese | Vanadium | Molybdenum | Sulfur | Silicon |
| S30v | 1.45 | 14 | 0.5 | 4 | 2 | 0.03 | 0.5 |
| 154cm | 1.05 | 14 | 0.50 | 0.4 | 4 | 0.03 | 0.30 |
Chemical composition of S30v and 154cm
Hardness Comparison
The hardness level of s30v according to Rockwell Hardness is between 58 and 61 HRC and 154cm hardness relay between 60 and 61 HRC.
Some tests have proved that S30v is a harder steel type as compared to the 154cm. The hardness of S30v depends on the combination of Tungsten, Vanadium, Manganese, and carbon.
On the other hand, 154cm has a combination of Chromium, Carbon, and Manganese which provide it with excellent hardness.
Edge Retention Comparison
The edge retention depends on the hardness of the steel as we have seen the hardness of S30v and 154cm is very close, which means both the steels come with excellent Edge Retention.
Wear Resistance Comparison
Although 154cm is very hard steel and has decent wear resistance properties, S30v has a high amount of Vanadium and Chromium which makes it slightly better than 154cm in terms of wear resistivity.
Sharpness
S30v is hard steel as compared to 154cm which makes it a bit difficult to sharpen but it doesn't require frequent sharpening.
On the other hand, 154cm is easier to sharpen but it requires frequent sharpening.
Toughness
S30v is hard steel which impacts its toughness. It has better hardness and corrosion resistivity but its toughness is not the same.
On the other hand, 154cm has decent toughness than the S30v. It has a proper balance between hardness and corrosion resistivity.
The above result is only for comparison purposes, it doesn't mean S30v is bad steel in terms of toughness. Its toughness is excellent.
Does s30v and 154cm Steels Rust?
Every stainless steel will rust if it is not taken care of properly. S30v and 154cm both have 14% of chromium which provides great corrosion resistivity to them.
Note: If you want to use your knife for a longer time without rusting then after using it just wipe it with a dry cloth will extend its life and prevent any rusting.
Which One Is Best Between S30v And 154cm?
Having a sharp, durable, and long-lasting knife could be a life savior for some tough situations. If you are still in confusion about which steel type is highly durable, sharp, and tough between s30v and 154cm then let's understand them in a nutshell.
154cm has a fine edge and more fine grain. Its edge remains fine for a longer period of time than the S30v. S30v has a coarser grain toothy edge rather and its edge also remains sharp for a longer period of time but not as much as you will get in 154cm.
S30v has excellent wear resistivity but 154cm has excellent toughness. 154cm takes very less time in sharpening than the s30v, but you have to sharpen it frequently.
S30v is tough steel and takes more time in sharpening than the 154cm. S30v steel knife is more suitable for humid environments and a little bit more expensive than 154cm.
I personally recommend going with S30v because it is made using new technology. 154cm is older than the s30v this is also a great steel type but new and advanced technology offers more advantages than the older one.