If you are a chef or outdoor adventure geek, finding the right kind of steel blade is very crucial and sometimes it is life's savior too.
Crucible CPM steels are known for their hardness, toughness, edge retention, and excellent wear and tear resistivity. Their "S" lineup is very popular and here, in this article, I am going to talk about the two most famous "S" series steel types namely S30v and S35vn.
Let's understand what I'm going to cover here…
What are they?
Their chemical composition.
Their physical properties
Similarities
DIfferences
Which one is best in which parameters?
So without further ado…
Let's break it down…
Does S30v Stainless Steel Good For Knife?
S30v steel also known as CPM S30v is high-end steel. This is a powder-made martensitic (harden) steel developed with the collaboration of the two most famous knife makers Dick Barber and Chris Reeve in 2001.
S30v is made of Martensitic steel which is highly worn and corrosion-resistant. It has a high percentage of carbon, and a defined ratio of Molybdenum, and Vanadium. Steel is used to manufacture pockets knives and is also a very popular material to manufacture kitchen cutlery.
This is a very popular and reputed steel type for making the blade of steel knives even though it covers most of the steel-based tools market in America.
CPM S30v Or S30v Chemical Composition
S30v is made of a combination of different components, one of them is Corbon. Carbon is known to improve the hardness of steel and it also makes steel wear and corrosion resistance. But it will reduce the strength of the steel if added in excess quantity. The carbon percentage in CPM S30v steel is 1.45%.
Nobody wants that the knife he is using loses its edge retention again and again and needs frequent sharpening. A chemical substance namely Chromium improves the strength and edge retention property of the steel and is also known for improving the wear and tear resistivity of the knife. The Chromium percentage in S30v is 14%.
The Main Chemical Components In S30v
| | | | |
| --- | --- | --- | --- |
| Carbon | Chromium | Vanadium | Molybdenum |
| 1.45% | 14% | 4% | 2% |
Other chemical substances which are used to improve the strength of the steel and are used in S30v: Nitrogen 0.2%, Silicon 0.5%, and Phosphorus 0.3%.
To improve the machinability of the steel some other chemicals are used. Here I've mentioned the percentage of these chemical components in S30v which are Molybdenum 2%, and Sulfer 0.3%.
To improve the hardness and bitterness Manganese 0.5%, Vanadium 4%, and Tungsten 0.4% are mixed in the S30v.
Advantages Of Using A Knife Based On S30v
Highly corrosion and wear resistance.
The knives made with S30v are equal to or sometimes tougher than the 440C and D2.
Doesn't need frequent sharpening.
The S30v knives come with excellent edge retention property.
Our Recommended Best Knives Based On S30v Steel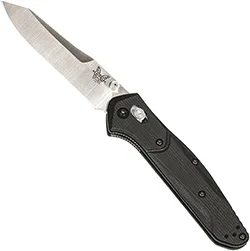 Spyderco Para Military Steel Blade With G-10 Handle
Full Flat Grind.
Made In the USA.
3.42″ Blade & 8.24″ Length
View the current price here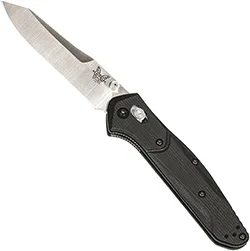 Benchmade 940 EDC Manual Opening And Closing
Reversible, Lightweight, Locking Blades
G10 Handle, G10 Handle
Alloy Steel
View the current price here
Also Read: S30v Vs 154cm: Which Knife Is Best?
Does S35vn Good For Knife?
S35vn is an upgraded version of S30v and is also developed by the crucible industry. The Metallurgist Maria Sawford developed this steel by reducing the percentage of Vanadium, adding Niobium, and removing the Nitrogen.
S35vn was launched in 2009 with improved toughness and machinability than its predecessor S30v. The S35vn is also known as CPM S35vn and is widely used in cutlery, long-wearing specialty, plastic injection, etc.
CPM S35vn Or S35vn Chemical Composition
S35vn has some improvement in chemical composition to improve its performance to survive in tough situations. It has 1.4% Carbon which improves the hardness and wear and corrosion resistivity of the steel but decreases strength if added in excess amount.
14% Chromium provides tensile strength and improves edge retention. It is also a factor to improve the wear/tear resistivity of the steel. There is no change in the percentage of Molybdenum which is added in 2% and improves the machinability and strength of the steel.
The Main Chemical Components Of S35vn
| | | | | | |
| --- | --- | --- | --- | --- | --- |
| Carbon | Chromium | Molybdenum | Vanadium | Niobium | Nitrogen |
| 1.4 | 14 | 2 | 3 | 0.5 | – |
The percentage of Vanadium is reduced by 25% which is helpful for wear resistivity and the hardness of the steel. A new element that is missing in S30v is added at 0.5 % in S35vn which is Niobium. Niobium is useful to improve the hardness and wear/tear resistivity as well.
One element is removed for the chemical composition of S35vn, which is nitrogen, but Incidental nitrogen is present in some amount.
Other chemical substances which are responsible to improve the strength of the steel are Silicon 0.5%, and Phosphorus 0.03%. 0.03% sulfur is added to improve its machinability, 0.4% Tungsten improves the hardness and wears resistivity. Nickel is added to improve the toughness of this steel which is added between 0.2 to 0.4 %.
0.5% of Manganese is added to improve the hardness and brittleness of the S35vn steel and at last 0 to 0.5% of Cobalt is added to trigger the effect of all the individual components.
Advantages Of Using A Knife Which Is Manufactured With S35vn Steel
S35vn has better corrosion resistivity than S30v.
Its toughness is slightly better than S30v.
A most ideal choice for hunting, survival, fishing, diving, and kitchen use.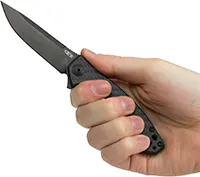 Zero tolerance 0450cf folding knife DLC coated S35VN
3.25" S35VN Edge plain blade
Carbon handle with great strength yet very light.
Thumb ramp and pocket clip.
Smooth opening.
View the current price here
S35vn Vs. S30v: Specifications
Steel Type
S35vn and S30v are developed to follow the exact same protocols. Both the steels are byproducts of metallurgy powder. The little bit changes in S35vn chemical composition make it better in some paraments than the S30v such as its hardness, and toughness is improved but the edge retention capability is decreased to some extent.
Chemical Composition Comparison
| | | | | |
| --- | --- | --- | --- | --- |
| | Carbon | Chromium | Vanadium | Molybdenum |
| S30v | 1.45 | 14 | 4 | 2 |
| S35vn | 1.4 | 14 | 3 | 2 |
s30v and S35vn chemical composition
Edge Retention Comparison Between S30v And S35vn
The edge retention capability of S30v is around 149% and for S35vn it is only 132%. It means the S35vn edge retention capability is 17% less than the S30v.
The following results are based on the CATRA study performed by Bohler-Uddeholm.
Corrosion Resistivity Comparison
S35vn comes with great corrosion resistivity than the S30v. Chromium is a substance that is responsible to improve the corrosion resistivity of steel. Some tests proved that although the percentage of Chromium is the same in both the steel types, S35vn is likely superior to S30v in terms of corrosion resistance property.
Hardness Comparison
The hardness of the S35vn is between 58 and 61 HRC and The hardness level of s30v according to Rockwell Hardness is between 58 and 61 HRC. Both the steels come with excellent hardness.
Toughness
S30v is hard steel which impacts its toughness. It has better hardness and corrosion resistivity but its toughness is not the same.
On the other hand, S35vn has a proper balance of toughness than the other qualities such as corrosion resistance and wear resistance. Having all the three qualities on steel is rear but it has a proper balance of toughness, hardness, and wear/tear resistance.
Sharpness
S35vn and S30v both the steels have a hardness between 58 and 61 which indicates that the hardness level of both the steels is almost the same.
Both steels are hard and as the rule says the harder the substance the more difficult it is to sharpen its edges.
Does s30v and S35vn Steels Rust?
Every stainless steel will rust if it is not taken care of properly. S30v and S35vn both have 14% of chromium which provides great corrosion resistivity to them.
Note: If you want to use your knife for a longer time without rusting then after using it just wipe with a dry cloth will extend its life and prevent any rusting.
Which One Is Best Between S30v And S35vn?
I hope you are now in the situation of choosing the right steel type for your knife.
But, if you are still in a dilemma between S35vn and S30v then here, I'm going to clear your doubt in a very simple way.
As I've earlier mentioned that S35vn is an improved version of its predecessor S30v. They both have almost the same chemical composition with some minor changes such as Nitrogen being removed from S30v and 0.5 % Niobium being added to S35vn chemical composition.
Both the steels have excellent corrosion resistance, wear resistance, and toughness. and the edge retention of S30v is better than S35vn whereas S35vn has slightly better toughness than the S30v.