There are several varieties of kitchen knives. Not only in the kitchen these knives are also very useful in outdoor adventure trips. You would hardly spend a day of your life without using a knife.
There are different types of steel are used to manufacture these knives. The quality of the steel defines as:
how sharp a knife is going to be.
Its edge retention property.
How easy it is to sharpen it.
Today we are going to clarify every single detail about the two most famous steel varieties namely N690 and VG10.
Which steel variety is best and under which circumstances?
Let's find out…
But wait before we proceed further let's have a look at a quick comparison between N690 and VG10 in a nutshell. If you don't have much time go through the whole article.
Comparison Table Between N690 And VG10
| Specifications | N690 | VG10 |
| --- | --- | --- |
| Type of steel | N690-based knives are made of 440C stainless steel. | VG10 is s Japanese most famous cutlery grade stainless steel, which is often used by chefs. |
| Chemical composition | N690 has C, Co, in small quantity but Ch is in large quantity which is 17.5%. | VG10 has Carbon, Chromium, and Cobalt almost in the same percentage but Vanadium is added in small quantities. |
| Sharpening time | N690 steel remains sharp for a longer time and takes less time for sharpening. | VG10 is also good steel in terms of less sharpening time and edge retention but it is best in terms of corrosion resistivity. |
| Usage | N690 is rough and tough steel and is best for outdoor hiking, hunting and camping. | VG10 has less tempering resistivity and is best for home/kitchen uses. |
| Stress Tolerance | N690 can tolerate stress in a better way. It doesn't need frequent sharpening. | VG10 has less capability to tolerate high stress for a long time. |
| Hardness & Toughness | N690 is hard steel and it has flexibility as well. | VG10 is also hard steel but it has less flexibility than the N690. |
Does N690 Stainless Steel Good For A Knife?
If you do some research about which one is the most popular and versatile knife steel in the market then you come across N690. This is a type of steel that is known for its widespread use in the cutlery industry.
The knife made with N690 comes with high alloy content which can resist rusting very effectively. The knife made with N690 doesn't need any special maintenance and retains its sharpness for a longer period of time, and is best whether you are going to use it as a kitchen tool or as survival equipment for your outdoor trip.
People want a knife that takes very little time in sharpening. N690 is a kind of steel that minimizes the sharpening time dramatically due to the high content of carbon and chromium. N690 steel makes your knife hard yet flexible and you don't even need to work hard to sharpen it.
A knife made with N690 steel is also corrosion-resistant due to the presence of a high amount of molybdenum and vanadium. The N690 steel-based knives come with a high shear rate, tough, decent edge retention, and take less time in sharpening.
The N690 steel hardness is between HRC 57-59 and Vickers hardness is around 430. These properties added hardness and make your knife tempered. Additionally, the knife made with N690 has a strength of 4 to 5 times more than the knife based on medium carbon content.
I found the toughness of such knives is 3 times higher due to the presence of chromium. The chromium also enhances the hardness of the steel and makes your knife wear and corrosion-resistant.
N690 steel is widely used to manufacture fishing and hunting knives because N690 steel is very easy to sharpen and is highly stain resistant.
Advantages Of Using A Knife Based On N690 Steel
N690 is the most widely used austenitic Nickel-Chromium stainless steel.
It has good rust-resistant properties in normal conditions.
The self-life of a knife made with N690 is 5 times longer than the other steel-based knives.
N690 added a corrosion-resistant property to the knives, which consists of good weldability as well.
N690 is known for better stain resistivity than other steel.
The knives based on N690 come with a higher edge retention property.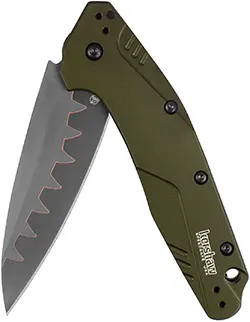 Kershaw Dividend Folding Pocket Knife, corrosion-resistant N690 on the blade upper and tough.
Does VG10 Stainless Steel Good For Knife?
VG10 is one of the stainless steel types based in Japan. The VG10 is the most popular steel grade to manufacture knives and other sharp tools in the cutlery industry.
What Is VG10?
The word G in VG10 stands for "Gold" which means Quality like Gold. VG10 is the most popular and high-end Japanese stainless steel that was designed by Takefu Special Steel Co. Ltd.
VG10 steel Chemical Composition
VG10 steel is made of several different components, one of them and the most commonly used component is carbon. The Carbon percentage is 1% in this steel, which is responsible to provide hardness to the object made by VG10. Carbon is also helpful to make the objects wear and tear-resistant if added in a defined ratio.
The second chemical element which is used in VG10 steel is Chromium. 15% of this chemical substance provides tensile strength, and also improves the wear and tear resistivity of the knife made by VG10.
To increase, the hardness and bitterness of the knives, 0.5% of Manganese is also added to the VG10 steel chemical composition. The knives based on VG10 get strength from Phosphorus, which is mixed in 0.3% in the chemical composition.
The VG10 knives are good in strength and machinability due to the presence of 1% Molybdenum. 0.25% Vanadium and 1.5% Cobalt are also a part of its chemical composition they together improve the hardenability and make the knife wear and tear-resistant.
The VG10 steel hardness is HRC60, which is higher than its competitor N690. The knife made by VG10 with HRC60 has better edge retention properties. 15.5% Chromium and a higher carbon percentage make this steel corrosion and wear-resistant.
If we compare VG10 with N690 then the percentage of Chromium and Carbon is a little bit higher in VG10 which means it has a much better edge retention property than N690.
I found that the VG10 steel is hard and easy to sharpen in less time. It means the time that is going to be wasted in sharpening the knife based on VG10 steel would be minimal.
Advantages Of Using A Knife Based On VG10 Steel
VG10 is high-end steel and the knives made with this are most popular in Japan.
The knives made with VG10 come with decent edge retention properties, wear, and corrosion resistance as well.
This is hard steel, which is harder than N690.
VG10 knives are easy to sharpen and take less time in sharpening.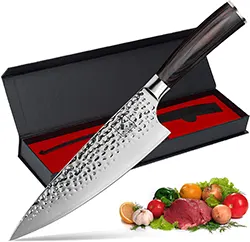 Chef Knife, imarku 8 inch Kitchen Knife Premium Sharp Cooking Knife VG10 Stainless Steel
Also Read: Vg10 Vs 154cm: Similarities & Differences
---
N690 Vs. VG10: Specification
Type Of Steel
N690 is a kind of steel that is treated with the presence of nitrogen. N690 steel is known for decent edge retention, its strength, and is easy to sharpen. You can get a very fine edge during the sharpening process, and it is tough enough to support those fine edges.
On the other hand, VG10 is stainless steel due to the presence of 15.5% of chromium. The percentage of chromium in VG10 is low as compared to N690, which means VG10 is less corrosion resistance than N690, but both are the best steel right now.
Chemical Composition
The chemical composition of N690 and VG10 is mentioned below table…
| | | | | | | |
| --- | --- | --- | --- | --- | --- | --- |
| | C | Ch | Mo | Co | V | Austenitic |
| N690 | 1.05 | 17.3 | 1.1 | 1.5 | 0.1 | 1050 |
| VG10 | 1 | 15 | 1 | 1.55 | 0.25 | 1080 |
Chemical composition of N690 and VG10
Which One Is Sharp Between N690 And VG10?
You can see the quality of Chromium in N690 and VG10 in the above table. N690 has more chromium than the VG10, which means N690 is much harder than the VG10 steel which makes it less corrosion resistant than the VG10.
Usability
Due to the high level of chromium and high carbide volume, N690 is more wear-resistant than the VG10, and this property makes N690 perfect for outdoor activities you can use it in your hiking, and camping trips for hunting.
On the other hand, VG10 is most likely to use in the kitchen or for normal cutting purposes.
Stress Tolerance Test
The toughness of N690 is less than the VG10. VG10 tolerates the bending stress test much more than the N690. The VG10 was found to be more wear-resistant than the N690 in some tests due to the presence of a higher percentage of carbon. On the other hand, N690 is found to be more corrosion-resistant than the VG10.
Edge Retention Property
The edge retention depends on the percentage of carbide in the composition. I found the edge retention property of N690 is much better than the VG10.
VG10 Vs. N690: Similarities
There are some similar properties between N690 and VG10.
Let's have a look at them…
The percentage of cobalt is almost the same in N690 and VG10.
Both have 1.5% of Cobalt and a small amount of Vanadium.
The sharpening time on both steel types is almost the same.
N690 Vs. VG10: Differences
There is some difference as well in both the steel types which are:
Due to the addition of Cobalt and a small amount of molybdenum, N690 steel has better tempting resistivity than the VG10.
Both steel types are manufactured by different companies.
N690 is best for outdoor usage, which means it can be used in tough situations without the need for frequent sharpening. On the other hand, VG10 is good for kitchen and home usage where it doesn't go through high stress.
The corrosion resistivity of VG10 is less than that of N690.
N690 Vs. VG10: (FAQ)
Q.1 Is N690 The Same As VG10?
Ans. No, N690 is different from VG10 in several parameters such as their chemical components being totally different. See the chemical composition table which is given in this article.
N690 and VG10 differ in terms of edge retention, tempting resistivity, usage nature, and sharpening time.
Q.2 Where Is N690 Steel Made?
Ans: The N690 steel is made in Austria by a company that is famous for manufacturing knives and surgical instruments.
Q.3 Where Is VG10 Made?
Ans: VG10 is the Japanese most famous steel type designed by Takefu Special Steel Co. Ltd.
Q.4 Is VG10 Better Than N690?
Ans: As per different tests N690 is better than the VG10 in several parameters. The chemical composition of both steels is different. Their sharpening time, edge retention capability, and toughness are different from each other.
Conclusion
Whether you are at your home to cook some delicious recipe, or on an outdoor hiking trip, where you have to arrange wood, and food for the shelter, and for survive in such a challenging environment, having the right kind of knife is crucial.
If you have gone through the whole article about N690 Vs VG10, with concentration, I bet, you will be in the situation to decide which type of knife could be best for your need.