If you are confused between the Kitchenaid Professional 5 Plus and the Kitchenaid Artisan then you are in right place.
I bet after reading this article, you will be very clear about your decision.
So without further ado let's get started…
The company manufactured both mixers for different customers. If you are a professional beaker, or you are an amateur cook and love to cook for your family and friends then Kitchenaid Profession 5 Plus would be the right choice for you.
On the other hand, Artisan is smaller in size, and its compact design offers some very useful features that you miss in Kitchenaid Professional 5 Plus, which I will discuss in this article further.
Both of them have some common features and also have some differences which make you confused right?
Kitchenaid Artisan Vs Professional 5 Plus: Quick Comparision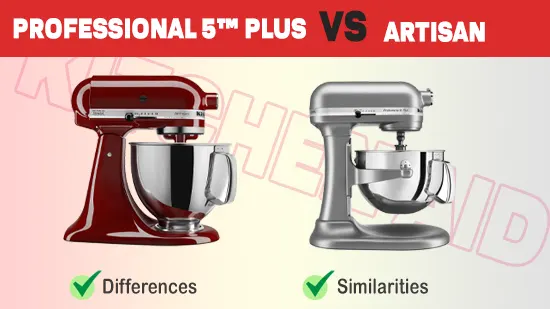 Let's have a look at the detailed specifications of both the mixer to understand them better.
| Specifications | Kitchenaid Artisan | Kitchenaid 5 Plus |
| --- | --- | --- |
| Bowl Capacity | 5qt | 5qt |
| Wattage | 325 watts | 450 watts |
| Usage | 9 Dozen | 10 Dozen |
| Auto Shut Off | No | No |
| Material | Stainless Steel(Polished) | Stainless steel(Polished) |
| Mixing Speed | 10 | 10 |
| Type | Swivel Up Stand | Mixing Type Bowl-Lift |
| Weight | 26 pounds | 25 lbs |
| Pouring Shield | Included | Included |
| Flat Beater | Included | Included |
| Dimensions | 14.3 x 9.3 x 14 inches | 14.63 x 11.31 x 16.5 inches |
| Price | View On Amazon | View On Amazon |
Differences Between Kitchenaid Professional 5 Plus And Artisan
This is a very important section of our article, where you can understand some main differences between them that help to decide which one to pick and which one to kick.
Artisan is a clear winner in this section. You will get every single color in Artisan that can match your kitchen interior. The Artisan mixer is available in 30 elegant colors.
On the other hand, the Professional 5 Plus only comes in 6 colors. It depends on your own choice and how much importance you give to colors.
Here, no doubt that Kitchenaid Professional 5 Plus is a clear winner with 450 watts motor. On the other hand in Artisan, you get only 325 watts motor.
It means in Professional 5 Plus you will get 38% more performance than the Artisan which will give you more advantages to handle stressful kneading tasks.
Here, Artisan is a clear winner because it comes with a protective plastic shield which is very useful when you are mixing something in the bowl.
It ensures that the flour and sugar won't come out of the bowl when you are preparing dough for cakes or pastries. This feature is not seen in Professional 5 Plus. It ensures your kitchen has minimal mess so that you can focus more on baking rather than cleaning stuff.
This is also a very useful function that provides some extra space for you to clean the blades from dough or whipped cream just by lifting up its stand.
More often bakers want to drip off the stand from the batter in this situation Artisan mixer is definitely helpful to them.
On the other hand, Kitchenaid Professional 5 Plus stand won't lift up or forth to provide such kind of flexibility because it is a powerful mixer and its weight is very high that preventing it from dripping off.
Instead of this, Professional 5 Plus has a crankshaft that lifts its blade handle up and down.
Kitchen Aid pro series come with 5 years of warranty whereas the Artisan lineup comes with only 1 year of warranty. You will get a replacement if your stand mixer would fail within the warranty period.
The kitchen Aid Professional 5 Plus series will cost you much higher than the Artisan series. Professional 5 Plus will cost you nearly $500 whereas the Artisan series will cost you under $400.
Quick Glance Of The Above Mentioned Differences
| Artisan | Professional 5 Plus |
| --- | --- |
| 1. Have a variety of colors to choose from 30 different colors. | Only have 3 colors to choose from. |
| 2. 38% less powerful motor than Professional 5 Plus. | More watts more power. |
| 3. Comes with a plastic shield. | The plastic shield is not there. |
| 4. Swivel upstand. | Crankshaft handle |
Similarities Between The Kitchenaid Artisan and the Kitchenaid Professional 5 Plus
Apart from some differences, there are some similar features in both mixers. As both mixers are from the same brand, each of them is targeted at a particular group of customers.
Both mixers come with 10-speed levels. These levels are useful to achieve the desired result in different-different tasks.
Note: Start using your mixer at low speed first, then level up with some interval of time, this way you will get better results with both mixers.
Both mixers come with a bowl that is made of stainless steel with a handle. Stainless steel is the best rustproof material and handles are very helpful for easy and more convenient maneuvering.
The power hub can extend the limit of your mixer. Power hub allows you to attach multiple attachments to utilize your mixer for different purposes such as making pasta, ice cream, juice, etc.
Also Read: Bertazzoni Range Problems: A Quick Fix Guide
Quick Glance At The Similarities Between Artisan And Professional 5 Plus
Both mixers come with 10-speed levels, also both have the same mixing settings.
Power Hub is available in both mixers.
Bowl build quality is decent and ergonomic handles are present in both mixers.
Which Mixer Is Best For Me Between Artisan And Professional 5 Plus?
After reading all the similarities and dissimilarities you are now in the situation of taking the right buying decision.
Still gets confusing…
Choose Kitchenaid Artisan Mixer If You Have These Needs…
Need 1: If you have to deal with a few quantities of ingredients inside your bowl. If you are earlier using a Kitchenaid classic mixer and need an upgrade then defiantly go with Artisan.
Need 2: If you want a plastic shield to cover the bowl surface to reduce the mess in your kitchen. Often the flour and sugar mix threw outside the bowl in this situation a protection shield would be beneficial for you.
Need 3: If you want to swivel up the stand because it makes it much easier to deal with a chunk of batter on the blade or beater.
Choose Kitchenaid Professional 5 Plus Mixer If You Have These Needs…
Need 1: If you have a large family and you have to prepare for a large serving. In this situation, you require a large bowl with a powerful motor. Kitchenaid Professional 5 Plus is the right choice for you.
Need 2: You can prepare 7 dozen cupcakes in a single time by using the Professional 5 Plus mixer and can plan a small birthday party at your home.
The Conclusion
After reading this article, you have plenty of knowledge about these two Mixers from Kitchenaid.
After going through all the similarities and differences between Professional 5 Plus and Artisan, I hope your mind would be very clear about which mixer is best as per your requirements.
I would suggest you buy Artisan if your family is small and you want to bake small quality for your loved ones but go with Kitchenaid Professional 5 Plus if your family is large and want to deal with plenty of cakes, potato recipes, and planning for an upcoming party.
Helpful Links: