Looking for the best steel to buy a knife and are stuck between S30v and S90v then this is the right place to understand them better.
S30v and S90v both are developed and manufactured by the same company namely Crucible. Let's have a look at what I'm going to cover in this article about these two most popular steel types…
What are they?
Their chemical composition and differences.
Specifications
Similarities
Differences
Which Steel type is best in which condition?
Which one is best suited for you?
So without further ado…
Let me walk you through this in-depth guide about…
S30v Vs. S90v: Which One Is Best?
Does S30v Stainless Steel Good For A Knife?
It was the end of 2001 when Dick Barber launched the S30V, which is an improved version of steel that was previously used. It was better than that time used steel style BG42.
The S30V steel comes with decent edge retention properties, it has great corrosion and wear-resistant properties. The S30V was developed by using powder metallurgy technology, with the combination of quite a different chemical composition than which is used previously.
The results of this experiment are predictable because S30V has better toughness and edge retention. Its edge remains sharp and holds its shape for a long period of time than the BG42 steel type.
CPM S30v Or S30v Chemical Composition
S30V comes with 1.45% of Canbon which is less in quantity than the previously released steel type S90V. Also, the percentage of Vanadium in S30V is reduced by 5% to the S90V and this affects the quality of the steel significantly.
All of these experimental changes give fair results because S30V has excellent toughness, and grind capability than the S90V steel.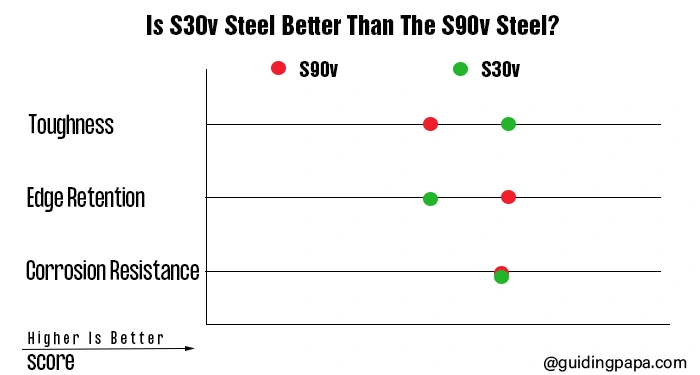 The Main Chemical Components In S30v
| | | | |
| --- | --- | --- | --- |
| Carbon | Chromium | Vanadium | Molybdenum |
| 1.45% | 14% | 4% | 2% |
Apart from these most common chemical components, it has some additional add-ons which are Nitrogen 0.2% (to improve corrosion resistivity and make the steel hard after some heat treatment), Manganese 0.5%(to keep the steel hard and brittle), 0.5% Silicon( for strengthen the steel) and so on.
Advantages Of Using A Knife Based On S30v
The knives made with S30V steel have excellent edge retention.
It has a balanced combination of high hardness, and corrosion resistance, but is a little bit less tough than the other similar steels.
This is high-end steel and is widely used in some highly performance-oriented applications such as for bearings, in making high-end knives, etc.
Also Read: S30v Vs 154cm: Which Knife Is Best?
Our Recommended Best Knives Based On S30v Steel
Spyderco Para Military Steel Blade With G-10 Handle
Full Flat Grind.
Made In the USA.
3.42″ Blade & 8.24″ Length
View the current price here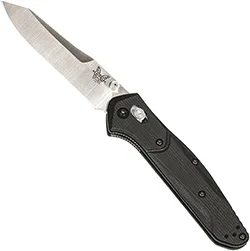 Benchmade 940 EDC Manual Opening And Closing
Reversible, Lightweight, Locking Blades
G10 Handle, G10 Handle
Alloy Steel
View the current price here
Also Read: S30v Vs S35vn: Differences & Similarities
Does S90v Stainless Steel Good For A Knife?
S90v or CPM S90v was initially known as CPM-420 and was released in 1995. S90v is made using the Particle Metallurgy process. Initially, it was designed as tool steel and named CPM-440.
S90v is an expensive version of steel that is used to design some high-end knives. 14% Chromium listed S90v in the category of stainless steel. This is a kind of steel that keeps its edges sharp for a longer period of time and doesn't require frequent sharpening.
The S90v variant of steel is popular for making bearings, slitters, cutlery, outdoor hiking, etc.
CPM S90v or S90v Chemical Composition
S90v has some huge changes in its chemical composition if we compare it with S30v. S90v has 2.3% Carbon which is approx 58% higher than the S30v which has only 1.45% of Carbon.
Carbon makes steel hard and also enhances its ability to bear any wear/tear. 14% Chromium is ideal in both steel types. There is a huge effect of Chromium in steel processing as it enhances the tensile strength, toughness, hardness, and edge retention property.
The Main Chemical Components Of S90v
| | | | | |
| --- | --- | --- | --- | --- |
| Carbon | Chromium | Molybdenum | Vanadium | Nitrogen |
| 2.3 | 14 | 1 | 9 | 0.1 |
Vanadium also plays a very important role to make steel tough, wear-resistant, and improve its strength. The percentage of Vanadium is 9% in S90v which is almost 125% more than the S30v. S30v has only 4% of Vanadium.
1% Molybdenum and 0.03% sulfur enhances the machinability, and strength of the steel. Other substances which are added to improve the toughness, strength, and hardness of the S90v steel are 0.5% Silicon and Manganese, 0.40% Tungsten, and 0.03% of Phosphorus.
Advantages Of Using S90v Steel in Manufacturing A Knife
S90v comes with excellent edge retention properties.
The knife made with S90v remains sharp for a longer period of time.
This is very hard and durable steel because of the 9% of Vanadium.
Our Recommended Best S90v Steel knife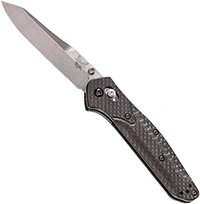 Benchmade 940-1 Manual Folding Knife
Sharp 3.4″ plain edge blade
ultra carbon fiber handle (lightweight and very strong).
a rock-solid AXIS Locking mechanism
View the current price here
S90v Vs. S30v: Specifications
Hardness Of The Steel
To measure the hardness of both steel types we consider the test results of the Rockwell Scale. According to the Rockwell test, the hardness of S90v is between 57 and 59 HRC, which is less compared with S30v. S30v hardness is between 58 and 61 HRC.
The range of mid-50 is considered a great hardness of steel.
Toughness
As we have seen the hardness score of both the steel types, it is very clear from the test results that S30v is tougher than the S90v. The hardness level of the S90v is between 57 and 59 HRC which means it has no doubt decent toughness but it is not the best as compared with the S30v.
Sharpening And Edge Retention Property
The edge retention of the S90v is far better than the S30v. You can use an S90v-based knife for a longer period of time without frequent sharpening. But due to its amazing toughness, it takes lots of time in sharpening.
On the other hand, The edge retention of S30v is not that much great as compared to S90v but it takes very less time to sharpen it.
Corrosion And Wear Resistance
The percentage of Chromium is the same in S30v and S90v, which makes them highly corrosion-resistant. Vanadium is also a very important factor that makes steel corrosion & Wear-resistant.
It means the S90v is better in corrosion & wear resistance than the S30v.
Chemical Composition Comparison
| | | | | | |
| --- | --- | --- | --- | --- | --- |
| | C | Cr | Mo | V | N |
| S30v | 1.45 | 14 | 1 | 9 | – |
| S90v | 2.3 | 14 | 2 | 4 | 0.1 |
Does S30v And S90v Steel Rust?
Every stainless steel will rust if it is not taken care of properly. S30v and S90v both have 14% of chromium which provides great corrosion resistivity to them.
Note: If you want to use your knife for a longer time without rusting then after using it just wipe with a dry cloth will extend its life and prevent any rusting.
Similarities Between S30v And S90v
Both steels are highly durable.
Both of them are excellent wear and tear resistance.
Both steels are brittle.
Which One Is Best Between S30v And S90v?
I hope after reading the whole article you are in the situation to choose the right steel for your knife. If you are still in a dilemma about which one is best then let me clear your doubt in a nutshell.
S30v and S90v both steels are tough and hard to sharpen. But S90v is more difficult to sharpen than S30v. So if you are going to sharpen your knife yourself then go with S30v, and if sharpening is not a big deal for you then you can choose S90v.
S30v is excellent steel in all the parameters and it is much easier to sharpen but it becomes dull very soon than the S90v.