If you are looking for the best knife either for your kitchen, survival, or outdoor adventure trip, choosing the right steel blade is very crucial. Today we are going to discuss S30v vs. M390. Earlier we compared S30v with 154cm, S90v, and S35vn. You can also check them out if, interested.
Let's understand what we are going to discuss in this article about these two most popular steel types…
What are they?
Their chemical composition and differences.
Specifications
Similarities
Differences
Which Steel type is best in which condition?
Which one is best suited for you?
So without further ado…
Let's compare them and understand what are the good things about which steel varient.
S30v Vs. M390: Which One Is Best?
Does S30v Stainless Steel Good For Knife?
S30v steel also known as CPM S30v is high-end steel. This is a powder-made martensitic (harden) steel developed with the collaboration of the two most famous knife makers Dick Barber and Chris Reeve in 2001.
S30v is made of Martensitic steel which is highly worn and corrosion-resistant. It has a high percentage of carbon, and a defined ratio of Molybdenum, and Vanadium. Steel is used to manufacture pocket knives and is also a very popular material to manufacture kitchen cutlery.
This is a very popular and reputed steel type for making the blade of steel knives even though it covers most of the steel-based tools market in America.
CPM S30v Or S30v Chemical Composition
S30v is made of a combination of different components, one of them is Corbon. Carbon is known to improve the hardness of steel and it also makes steel wear and corrosion resistance. But it will reduce the strength of the steel if added in excess quantity. The carbon percentage in CPM S30v steel is 1.45%.
Nobody wants that the knife he is using loses its edge retention again and again and needs frequent sharpening. A chemical substance namely Chromium improves the strength and edge retention property of the steel and is also known for improving the wear and tear resistivity of the knife. The Chromium percentage in S30v is 14%.
The Main Chemical Components In S30v
| | | | |
| --- | --- | --- | --- |
| Carbon | Chromium | Vanadium | Molybdenum |
| 1.45% | 14% | 4% | 2% |
Other chemical substances which are used to improve the strength of the steel and are used in S30v: Nitrogen 0.2%, Silicon 0.5%, and Phosphorus 0.3%.
To improve the machinability of the steel some other chemicals are used. Here I've mentioned the percentage of these chemical components in S30v which are Molybdenum 2%, and Sulfer 0.3%.
To improve the hardness and bitterness Manganese 0.5%, Vanadium 4%, and Tungsten 0.4% are mixed in the S30v.
Advantages Of Using A Knife Based On S30v
Highly corrosion and wear resistance.
The knives made with S30v are equal to or sometimes tougher than the 440C and D2.
Doesn't need frequent sharpening.
The S30v knives come with excellent edge retention property.
Our Recommended Best S30v Knives In The Market
Spyderco Para Military Steel Blade With G-10 Handle
Full Flat Grind.
Made In the USA.
3.42″ Blade & 8.24″ Length
View the current price here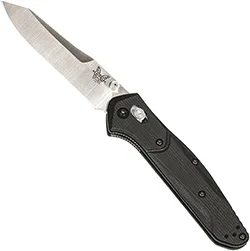 Benchmade 940 EDC Manual Opening And Closing
Reversible, Lightweight, Locking Blades
G10 Handle, G10 Handle
Alloy Steel
View the current price here
Does M390 Stainless Steel Good For Knife?
M390 project was an adjustment experiment in the traditional chemical composition of the powder metallurgy tool steel. M390 was developed in the late 80s with the vision to develop a new steel type with improved wear and tear resistance properties, that were missing in K190.
Developers at that time wants a highly wear resistance metal, which was very much needed by the plastic industry at that time.
Since it would be used in plastic processing, that's the reason toughness was not the primary concern for the developers.
Although M390 was developed by BOHLER-UDDENHOLM by using 3rd generation technology, using it for making knives was pushed by Latrobe steel in Pennsylvania, USA, and became a very popular knife making steel in 2010.
M390 Chemical Composition
M390 has 1.9% of Carbon which provides toughness, 0.7% of Silicon prevents bubble formation during the melting process and provides extra hardness to the steel.
0.3% Manganese provides strength, and 1% Molybdenum is for edge sharpening and also for the strength of the steel if treated at a high temperature.
The Main Chemical Components In M390
| | | | |
| --- | --- | --- | --- |
| Carbon | Molybdenum | Chromium | Vanadium |
| 1.9% | 1% | 14% | 4% |
Hardness and corrosion resistance are very important for steel and 20% of Chromium makes it possible. Steel must have wear resistance and 0.6% of Tungsten make M390 wear resistance and also improve the toughness of the steel.
4% Vanadium is a substance that is mixed to enhance the wear resistivity of the knife and also ensure the correct distribution of the grains.
Advantages Of Using A Knife Based On M390
M390 knives come with better corrosion resistance than the S30v.
Its edge retention capability is also high due to the presence of 4% Vanadium and high carbide content.
M390 is a highly tough steel that can bear beating, twisting, and blending very well.
Best M390 Knives Right Now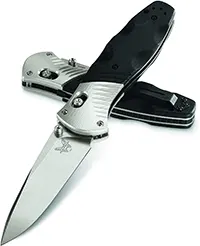 Benchmade – Barrage 581 Knife With Aluminum Handle
Blade Steel: M390 (60-62 HRC)
Drop Point Knife with Satin finish
Weight: 5.20oz. (147.42g)
View the current price here
M390 Vs. S30v: Specifications
Hardness Of The Steel
According to the Rockwell test results, the hardness of M390 is measured between 60 and 62 HRC, which is a bit high as compared with S30v whose hardness score is between 58 and 61 HRC.
Toughness
As per the hardness results, S30v has excellent toughness than the M390. We can clearly understand the hardness test result of both steel. Steel which is harder than the other steel type could not be that much efficient in the toughness, but some exceptions are also there.
Sharpening And Edge Retention Property
M390 and S30v both the steel variants have the same amount of Vanadium and Chromium carbide. Vanadium is a high hardness carbide and the majority of the chromium carbide is a low hardness carbide. Chromium carbide is a large amount than the Vanadium in the chemical composition of Powder Metallurgy Steel which limits its toughness.
It means both M390 and S30v are soft steel and easy to sharpen. Some test shows that M390 has slightly better edge retention than the S30v.
Corrosion And Wear Resistance
The corrosion resistance test shows that M390 is slightly better than S30v. The percentage of chromium apart from Nitrogen and Molybdenum controls the corrosion resistance property of steel.
Chemical Composition Comparison
| | | | | |
| --- | --- | --- | --- | --- |
| | Carbon% | Chromium% | Vanadium% | Molybdenum% |
| S30v | 1.45 | 14 | 4 | 2 |
| M390 | 1.9 | 14 | 4 | 1 |
Does S30v And S90v Steel Rust?
Every stainless steel will rust if it is not taken care of properly. S30v and M390 both have 14% of chromium which provides great corrosion resistivity to them.
Note: If you want to use your knife for a longer time without rusting then after using it just wipe with a dry cloth will extend its life and prevent any rusting.
Differences Between S30v And M390
M390 steel has much better wear resistance than the S30v.
M390 edge retention capability is better than the S30v.
S30v is much easier to sharpen than the M390.
Which One Is Best Between S30v and M390?
Many knife owners have a common doubt about these two steel varieties which is.
Would the M390 steel be an obvious choice over the S30V and why or why not?
M390 has some qualities which make it better than the s30v which are:
1. M390 is a newer and improved prototype of super steel than the S30v.
2. M390 has better edge retention property than the S30v.
3. M390 has better abrasion resistivity than the S30v.
These qualities make it a perfect choice for knife lovers and worth the extra money.
Reasons to choose s30v over M390:
1. This was the first super steel type which is used for knife manufacturing.
2. S30v is much easier to sharpen than the M390.
3. S30v will cost you much cheaper than the M390.
Both the steel are best in terms of wear/tear resistance, toughness, and edge retention but M390 is way better in most of the parameters. Choose any one of them according to what matters to you most.