If you are confused between the M390 and S35vn then in this article I've cleared every single detail about these two most popular steel varieties.
M390 is premium steel and will cost you much higher than the S35vn. There are also some major differences in terms of edge retention, sharpening time, and toughness.
Let's have a look at what I'm going to cover in this article about M390 and S35vn…
What are they?
Their chemical composition.
Their physical properties
Similarities
DIfferences
Which one is best in which parameters?
So without further ado…
Let's walk you through in detailed analysis between S35vn and M390.
Does S35vn Good For Knife?
S35vn is an upgraded version of S30v and is also developed by the crucible industry. The Metallurgist Maria Sawford developed this steel by reducing the percentage of Vanadium, adding Niobium, and removing the Nitrogen.
S35vn was launched in 2009 with improved toughness and machinability than its predecessor S30v. The S35vn is also known as CPM S35vn and is widely used in cutlery, long-wearing specialty, plastic injection, etc.
CPM S35vn Or S35vn Chemical Composition
S35vn has some improvement in chemical composition to improve its performance to survive in tough situations. It has 1.4% Carbon which improves the hardness and wear and corrosion resistivity of the steel but decreases strength if added in excess amount.
14% Chromium provides tensile strength and improves edge retention. It is also a factor to improve the wear/tear resistivity of the steel. There is no change in the percentage of Molybdenum which is added in 2% and improves the machinability and strength of the steel.
The Main Chemical Components Of S35vn
| | | | | | |
| --- | --- | --- | --- | --- | --- |
| Carbon | Chromium | Molybdenum | Vanadium | Niobium | Nitrogen |
| 1.4 | 14 | 2 | 3 | 0.5 | – |
The percentage of Vanadium is reduced by 25% which is helpful for wear resistivity and the hardness of the steel. A new element that is missing in S30v is added at 0.5 % in S35vn which is Niobium. Niobium is useful to improve the hardness and wear/tear resistivity as well.
One element is removed for the chemical composition of S35vn, which is nitrogen, but Incidental nitrogen is present in some amount.
Other chemical substances which are responsible to improve the strength of the steel are Silicon 0.5%, and Phosphorus 0.03%. 0.03% sulfur is added to improve its machinability, 0.4% Tungsten improves the hardness and wears resistivity. Nickel is added to improve the toughness of this steel which is added between 0.2 to 0.4 %.
0.5% of Manganese is added to improve the hardness and brittleness of the S35vn steel and at last 0 to 0.5% of Cobalt is added to trigger the effect of all the individual components.
Advantages Of Using A Knife Which Is Manufactured With S35vn Steel
S35vn will cost you less than M390.
S35vn is much easier to sharpen than that M390.
A most ideal choice for hunting, survival, fishing, diving, and kitchen use.
Some Best S35vn Knives Available in The Market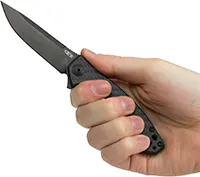 Zero tolerance 0450cf folding knife DLC coated S35VN
3.25" S35VN Edge plain blade
Carbon handle with great strength yet very light.
Thumb ramp and pocket clip.
Smooth opening.7.42g)
View the current price here
Does M390 Stainless Steel Good For Knife?
M390 project was an adjustment experiment in the traditional chemical composition of the powder metallurgy tool steel. M390 was developed in the late 80s with the vision to develop a new steel type with improved wear and tear resistance properties, that were missing in K190.
Developers at that time wants a highly wear resistance metal, which was very much needed by the plastic industry at that time.
Since it would be used in plastic processing, that's the reason toughness was not the primary concern for the developers.
Although M390 was developed by BOHLER-UDDENHOLM by using 3rd generation technology, using it for making knives was pushed by Latrobe steel in Pennsylvania, USA, and became a very popular knife making steel in 2010.
M390 Chemical Composition
M390 has 1.9% of Carbon which provides toughness, 0.7% of Silicon prevents bubble formation during the melting process and provides extra hardness to the steel.
0.3% Manganese provides strength, and 1% Molybdenum is for edge sharpening and also for the strength of the steel if treated at a high temperature.
The Main Chemical Components In M390
| | | | |
| --- | --- | --- | --- |
| Carbon | Molybdenum | Chromium | Vanadium |
| 1.9% | 1% | 14% | 4% |
Hardness and corrosion resistance are very important for steel and 20% of Chromium makes it possible. Steel must have wear resistance and 0.6% of Tungsten make M390 wear resistance and also improve the toughness of the steel.
4% Vanadium is a substance that is mixed to enhance the wear resistivity of the knife and also ensure the correct distribution of the grains.
Advantages Of Using A Knife Based On M390
M390 knives come with better edge retention than the S35vn. Its edge retention capability is high due to the presence of 4% Vanadium and high carbide content.
M390 is a highly tough steel that can bear beating, twisting, and blending very well.
Some Best M390 Knives Available in The Market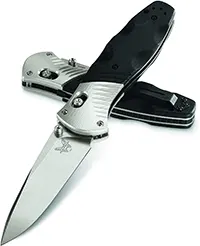 Benchmade – Barrage 581 Knife With Aluminum Handle
Blade Steel: M390 (60-62 HRC)
Drop Point Knife with Satin finish
Weight: 5.20oz. (147.42g)
View the current price here
M390 Vs. S35vn: Specifications
Hardness Of The Steel
According to the Rockwell test results, the hardness of M390 is measured between 60 and 62 HRC, which is a bit high as compared with the hardness of the S35vn which is between 58 and 61 HRC.
Toughness
As per the hardness results, S35vn has excellent toughness than the M390. We can clearly understand the hardness test result of both steel. Steel which is harder than the other steel type could not be that much efficient in the toughness, but some exceptions are also there.
Sharpening And Edge Retention Property
If you want a knife that is much easier to sharpen and also will come in a very handy budget then S35vn is for you. The only downside of S35vn is its edge wears off quickly.
Whereas the edge of M390 remains sharp for a long time. The only downside of the M390 blade is it takes longer to sharpen and will cost you much higher than the S35vn.
Chemical Composition Comparison
| | | | | |
| --- | --- | --- | --- | --- |
| | Carbon% | Chromium% | Vanadium% | Molybdenum% |
| S35vn | 1.4 | 14 | 3 | 2 |
| M390 | 1.9 | 14 | 4 | 1 |
Rusting Nature
Every stainless steel will rust if it is not taken care of properly. S35vn and M390 both have 14% of chromium which provides great corrosion resistivity to them.
Note: If you want to use your knife for a longer time without rusting then after using it just wipe with a dry cloth will extend its life and prevent any rusting.
Some Major Differences Between M390 And S35vn
S35vn is a cheaper option than the M390.
S35v is much easier to sharpen than the M390.
M390 has better edge retention than the S35vn.
M390 steel is harder than the S35vn.
S35vn is tougher than the M390.
S35vn knives are very common and easily available but M390 will be available in a very limited version.
Conclusion: S35vn Or M390 (Which One Is Best For You?)
I hope you will more clear about the differences and similarities between M390 and S35vn than before, but if you are still in confusion then this brief summery will definetly clear your doubt.
Choose M390 If
You want a premium steel-based knife, which has good edge retention, and is harder, If you don't want to sharpen your knife frequently.
Choose S35vn If
If you want the best knife under your tight budget, which is much easier to sharpen. Which is tough and you don't have any problem sharpening the knife frequently.
Note: S35vn is a very common steel type and is easily available in a huge variety whereas M390 is premium steel and its production for making knives is very limited. You only get some of the best knives made with this steel on eBay or other secondary market places.