There are many reasons why your shed won't close. It may be due to:
Due to weather conditions.
Humidity (in the case of wood doors).
The wood species of your door.
Rust on hinges.
Cracked door jamb.
Too Old Shed and so on.  
The wood door of your shed may swell or shrink due to atmospheric temperature changes. For example, your shed door swells a little bit in summer and shrinks in winter. 
Humidity in the atmosphere and the moisture level of your wood door also play role in its expansion and contraction. 
Misaligned shed doors are also obstacles to the opening and closing of your shed door. 
Whatever the reason that your shed door is not closing, we have listed some best possible solutions to fix them in this article. 
So without further ado…
Let's begin troubleshooting your shed door.
5 Ways To Fix The Problem Of Your Shed Door Won't Close
Method 1: Grind The Side Strike Plate (In Case Your Shed Has One Door)
The first method is very simple and doesn't require taking the shed doors down and grinding its edges like stuff. 
What you would do is just take a Dremel tool. The Dremel tool is easily available in online stores and in your local hardware stores. You can buy it if you don't have one. 
It will not cost as much as a repairman will charge you, and it will help you in future DYI and repair works as well. 
Let's move on to our work. 
Point out that your shed door is slightly become down from its original position which causes it won't leaching with its strike plate. 

You need to grind the sides of the hole of your shed door strike plate with your Dremel tool. 
Just grind the sides and the bottom portion of the hole of the strike plate by half or maybe one inch. 
It will allow your shed door to latch again with the door jamb. 
Also Read: Shed Door Won't Open: [Possible Reasons & Solutions]
Method 2: Move Your Shed Up From Its Base To Align Your Shed Doors (In Case Your Shed Has Two Doors)
If your shed has two doors, and if they are misaligned from the top of your door jamb then this would be a very easy and quick troubleshooting of your problem. 
Misaligned shed doors are difficult to close and open. In this situation follow these steps to fix this issue. 
For small Shed
Step 1: You can use a long piece of wood and put it in this way so that it's one corner goes inside of the base of your shed and put another small piece of wood in the middle of it.
What we are trying to do is to lift the shed a few inches from its base and put some small thin pieces of wood at its base to level it from its base.  
Note: Make sure to lift the shed till its doors become aligned and become free for easy opening and closing. 
Step 2: Now for lifting the shed put one leg on the other corner of the wood and put some pressure on it so that your shed lift for a few inches. 
Step 3: Now when your shed lifts up, hold it in its up position and put some small pieces of wood in the empty space of its base to give support from its base. 
Step 4: Check if the doors of your shed become aligned with its top jamb. 
Step 5: Check if the doors are closing and opening easily or not. 
For a big shed:
If your shed is big in size then using a long wood piece is not sufficient to lift it up. In this case, you can use carjack to lift your shed a few inches without any effort and put some small and thin pieces of wood to keep your shed a few inches up from its initial height until its door becomes aligned. 
Also Read: Can I Put A Shed Right Next To My House [Don't Make Mistake]
Method 3: Door Won't Close Due To Bend Hinge
Bend hinges would also make it difficult to close the shed door. A bend hinge put extra torque on the door jamb and may crack it. 
In this case, you need to fix the door jamb crack first, for this, you can use wood screws and wood glue after taking the door and hinges down. Just apply wood glue over the crack area and screw the hinges on that place and wait for it to dry and then attach the door. 
Also Read: Neighbors Shed Overlooking My Garden [Do This]
Method 4:  Rust On The Hinge Also Cause Your Shed Door Won't Close
If your shed door hinges caught rust due to the humidity or rain then it would also prevent your shed door from opening and closing. 
To fix it, you have to clean the rust off your shed door hinges. For this, you can use steel wool and rub it over the hinge pins. After a thorough cleaning, you can apply WD-40 lubricant on the metal hinges to make them rust-free for a long time.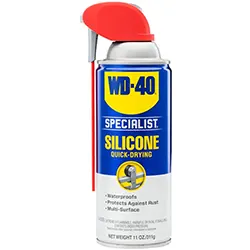 Method 5: Too Old Shed 
If you own a house that has too old a shed or if your shed is too old without proper maintenance then it would also be one of the main reasons why you find it difficult to open and close the shed doors.
The solution to this problem is to replace the door hinges if they catch rust, and wear out. Must Repair the cracked door jamb. 
Conclusion
In conclusion, there are many reasons behind your shed door won't close properly such as misaligned doors, cracked door jamb, rust on hinges, loose hinges, and so on. 
I've mentioned the 5 best ways to fix this problem. For a long-lasting solution, you can replace the cracked door jamb and rusty hinges with the new one. 
FAQ
Q.1 How do you fix an uneven shed door?
Ans: Uneven shed doors are hard to open and close and to fix them you can use a carjack if your shed is big or you can use a long piece of wood to lift it from its base to make its door aligned. 
I've mentioned a detailed step-by-step guide to do this. 
Q.2 How To Fix Metal Shed Door Won't Close?
Ans: Replace wear-out or rusty door hinges, aligned misaligned metal shed doors, and lubricate its latches and hinges would help to close it normally.