How nice and easy it is that we can remotely open and close our garage door without getting off from our car. It helps a lot when we are in hurry for our work. 
But what if your garage door sensors won't work correctly?
Sometimes it opens the garage door and sometimes it's not. Sometimes sensors open the garage door but are unable to close it after that. 
However this problem is serious and you have to fix it with the help of professionals, there are some tricks that can help you in closing an open door or opening a closed door in case of an emergency. 
In this article, I've listed 3 tricks to bypass a garage door sensor. 
So without further ado…
Let's get started…
3 Simple Tricks To Bypass Garage Door Sensors When It's Not Working
Trick 1: Inspect The Sensor Light Path For Possible Obstruction
This is a very common issue of your garage door sensors that react strangely when you try to open or close your garage door through its remote.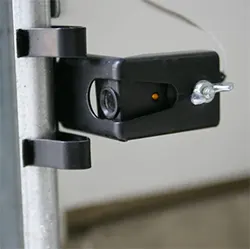 Point out that your garage door sensors are so sensitive even spider webs, or a small thin piece of paper can prevent the garage door sensors from opening or closing your garage door. 
This is why, thoroughly check the path of your garage door sensor all the way from left to right and clean dust particles, debris, and plant leave from its path. 
Trick 2: Stand Against The Sun Ray To Close Your Garage Door
If your garage door faces the Sun most of the time a day then this could also be a reason that your garage door sensors are not working. 
You can check the if sensors work or not by standing against the sunlight. You have to stand in such a way that your body prevents the sunlight from hitting the sensors. 
At the time when your shadow prevents direct sunlight from hitting the sensors, use your garage door remote and try to close the door. 
If you don't have remote control then tell someone to close the garage door through the wall button. If the door is closing it means, you are ready to trick or bypass your garage door sensors. 
Also Read: Garage Door Sensor No Light: [Problems & Solutions]
Trick 3: Bypass Garage Door Sensor
Normally people make one mistake during opening and closing their garage door if it is not working properly. They usually press the wall switch or press their remote button, but the door come down a few inches and then again goes up. 
To bypass your garage door sensor follow these steps to close and lock it properly when you are in an emergency.
Note: The below steps are suitable to bypass garage door sensors from brands like Genie, Liftmaster, Linear, Chamberlain, Craftsman, etc.
Step 3: Now release the garage door wall button. 
This is a very simple trick to bypass your garage door sensor if you come home at night and want to close the door the whole night. 
Note: You can bypass your garage door sensors only through the garage door wall switch. Your garage door remote won't work to close the door if your garage door sensors have some problems. 
After Successfully Trick The Garage Door Sensors, It's Time To Troubleshoot Them 
The next morning, I woke up worried free because last night I successfully bypassed my garage door sensors and was able to close my garage door and locked it. 
I slept well because my garage door is closed so there was no chance of burglary in my garage. 
Now it's time to troubleshoot the garage door sensors.
1. Clean The Garage Door Sensors
Sometimes dust and debris accumulate on the surface of sensors and an opaque sensor is enabled to transmit and receive signals properly. 
To fix it, take a piece of cloth and wipe all the dust from the surface of both of your garage door sensors. 
2. Align The Sensors Properly
If a garage door sensor from one side of your garage door misaligns with the garage door sensor of another side then due to a signal loss, your garage door will not open and close through the wall switch and the remote.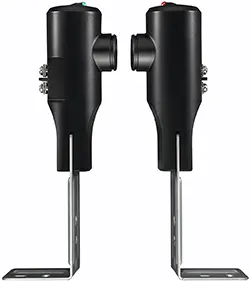 The simple solution to this problem is to align their position in such a manner that they face each other and this problem will be solved. 
Also Read: Garage Door Is Not Opening But Motor Is Running [Solved]
3. Disengaged Or Faulty Garage Door Sensor Wires
After checking thoroughly if you found that there is no obstruction on the path of garage door sensor lights, and the sun rays are not covering the sensor's light then the problem could be due to faulty or disengaged wires. 
To solve this problem cut the damaged part of the wire and peel its cover off and joint it again, to the connector. 
4. Replace The Damaged Sensors
If the wires of the sensors are in good condition then the garage door sensors must be faulty and need a replacement. You can buy them either online or from the local shop near you. 
Read the user manual and install them correctly. 
Conclusion
If your garage door not functioning properly and you want to bypass the sensors then I've listed a detailed guide to trick its sensors and close the garage door all day or night. 
I've also mentioned how to troubleshoot your garage door sensors so that they can work properly and will not create such a problem in the future. 
FAQ
Q.1 Will Garage Door Open If The Sensor Is Blocked?
Ans: A garage door opener will open the garage door but will not close it until there is something in the way of the sensors.