If you are struggling to clean your kitchen or bathroom tile grout using regular cleaning products but it didn't work well, then you would think, can you use toilet bowl cleaner on grout? 
You are not alone who thinks like that. Grout is essential to keep your bathroom and kitchen tiles in place and prevent any water penetration underneath your home flooring and wall structure. 
With time grout grabs lots of grime, water stains, and dirt due to its porous nature, and makes the cleaning job difficult for you.
Yes, you can use a toilet bowl cleaner for cleaning the grout of your bathroom and kitchen, but it contains harsh chemicals which can be toxic and can damage the grout sealant if used in large quantities. Toilet bowl cleaners produce fumes that irritate your skin, eyes, nose, and other sensitive areas.
Keep your kitchen or bathroom windows open while using them for grout cleaning. 
5 Reasons Why You Should Avoid Using A Toilet Bowl Cleaner For Cleaning Grout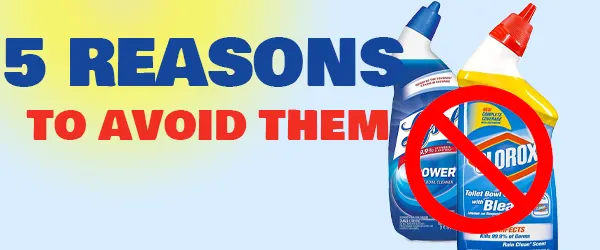 Grout is a very important sealant between tiles. You have to understand why you don't use a toilet cleaner to clean grout.
Reason 1: Strong Chemicals
A Toilet bowl cleaner contains strong chemical substances, which are effective in cleaning grime and water stains but using too much causes damage to the tile grout.
Grout is porous in nature. When the sealant has worn out, it allows water, moisture, and harsh chemical inside the tile and cause severe damage.
Reason 2: It Can Damage Grout Sealant
Grout acts like a sponge without proper sealant. Using a toilet bowl cleaner too frequently in a large quantity can damage the tile sealant.
Reason 3: Use Safety Gear While Using It
Strong chemicals used in making toilet bowl cleaner cause irritation on your skin when coming in contact with it. This is why using hand gloves and a safety mask is advisable during using toilet bowl cleaner.
Reason 4: Produces Fumes
Toilet bowl cleaner produces fumes that cause breathing problems in a closed place. This is advisable open all the windows of your bathroom or kitchen when you are using a toilet bowl cleaner for cleaning grout.
Reason 5: Not Environment Friendly
Toilet bowl cleaners are good for your toilet, and are not good to use anywhere else in your home. They are not environment friendly too. 
Also Read: Can You Use Toilet Bowl Cleaner On Fiberglass [Solved]
---
5 Methods To Clean Grout Without Damaging It (Naturally)
Here I'm going to mention some natural cleaners that clean grout effectively and won't damage its sealant and they are also safe for your family and environment.
Method 1: Use Home-Made Grout Cleaner
If you don't want to buy a grout cleaner then you can make homemade grout cleaner by following the below steps:
Required Ingredients For Making Home-Made Grout Cleaner:
Hydrogen Peroxide
Baking Soda
Dish Washer Soap
Warm Water
Scrub
A Dry Cloth For Cleaning
Step 1: First, wipe off any accumulated dust on the grout using warm water and a dry cloth.
Step 2: Now take a glass bowl or a glass bottle and add Hydrogen Peroxide (1/4 cup), Baking soda (1/2 cup), and Dishwasher soap (1 tablespoon). Mix them well using a spoon. 
Step 3: Now apply this mixture using a spoon over the grout. 
Step 4: Leave it for 5 to 10 minutes so that it starts working on removing the dust from the grout.
Step 5: Now wear Silicon scrub hand gloves and rub the grout surface hardly so that any stubborn dirt comes out from the grout. 
Step 6: Now clean the surface using a dry cloth to wipe off the homemade toilet cleaner from the grout.
Step 7: Now mob the tiles for thorough cleaning.
Also Read: Can I Use Toilet Bowl Cleaner To Clean My Sink: [Avoid These Things]
---
Method 2: Use A Steam Cleaner To Clean Stubborn grime and water stains from the Grout
If you want to save your family from harsh chemicals, then use a steam cleaner to clean those stubborn grime and dirt from the grout. Using a steam cleaner is very simple just follow the steps mentioned below:
Step 1: Steam cleaner comes with a rectangular steamer, pour some water from its top lid, and then press the ON switch. It takes a few minutes to make steam for cleaning.
Step 2: After a few minutes its button color will change from red to green, which means your steamer is ready for cleaning.
Step 3: Now attach a small bristle brush attachment with the pipe and get down your knee over the floor and start cleaning the grout. 
Step 4: If you are not comfortable with cleaning the grout knee down then you can attach a mopping pipe that is long in length and then attach your bristle attachment to its mouth.
It allows you to use the steamer over the grout without the knee down. You can use it standing. 
Step 5: Rub over the grout surface and wait for the dirt to come out from the grout and spread over the tiles. You can also dip your steam cleaning bristle into a bar of soap for thorough cleaning. 
Step 6: Steam cleaner comes with a mopping attachment which helps to remove the dirt and grime that come out from the grout and spread over the tiles.
Also Read: Toilet Not Used For Months: 8 Pro Tips To Keep It Usable
---
Method 3: Use Oxygen Bleach 
Oxygen bleach is a natural substance that is free from toxic chemicals. If your grout color becomes yellowish from white then oxygen bleach could be a helpful cleaner for you. Apart from whitening your grout, it kills bacteria. 
Just apply the oxygen bleach from its bottle directly over the grout and leave the surface for 5 to 10 minutes. After that scrub over the grout and clean the surface using a wet cloth. 
At last mop the surface for thorough cleaning. 
Note: Read all the safety instructions mentioned on the oxygen bleach bottle label first and open all the windows before applying oxygen bleach to the grout. Its fumes may irritate you.
Also Read: Discolored Grout Around Toilet [Solved]
---
Method 4: Alkaline Cleaner
If your grout is covered with oil and grease then Alkaline cleaner can be an effective solution for you. Oil and grease make your tile's grout gloomy. 
An alkaline cleaner is not other than a washing soda. The main ingredient of washing soda is sodium carbonate, which is an effective cleansing agent to clean stubborn stains from clothes. 
To clean grout using Alkaline you have to prepare a solution by following the methods mentioned below:
Step 1: Take washing soda (1/2 cup) and warm water (4 liters) and mix them well.
Step 2: Apply the solution over the grout and leave the surface for a few minutes.
Step 3: Now Scrub the surface hard and wipe it using a cloth. 
step 4: For thorough cleaning, you can mob the entire surface. 
---
Method 5: Use Eco-Friendly Toilet Cleaner
If you want to use a toilet cleaner to clean grout stains that are not severe then you have to try eco-friendly toilet cleaner. The good thing about eco-friendly cleaners is they are free from harmful chemicals. 
You have to look at your local store for the best toilet cleaner( Eco-friendly). They contain plant and mineral substances and fragrances like lemon, mint, orange, etc, which make grout cleaning a more pleasant experience than using a toilet cleaner made with harsh chemicals.
Note: Eco-friendly toilet cleaners are not as effective as toilet bowl cleaners because they don't contain sodium hydroxide and hypochlorite which provide a fast and effective cleaning result. 
---
How To Maintain Grout So That It Looks New
Grout catches dirt, oil, grease, and water stains very often after immediate cleaning. You have to take care of a few things to maintain it so that it can look always new:
1. Clean It Once A Week
Grout grabs grime, dust, and water stains too quickly this is why it is advisable to clean it once a week to maintain its look and keep it dust free.
2. Seal The Grout Once A Year
If you use toilet bowl cleaners that contain harsh chemicals to clean grout in your bathroom and kitchen tiles then must use sealant products once or twice a year.
It prevents water penetration due to damage to grout sealant and keeps it grime and dust-free. 
3. Replace The Damage Grout
If you find that the grout and its sealant wither, and are damaged then either repair it (in case of minor damage) or replace it immediately without delay.
---
Conclusion
In conclusion, you can use a toilet bowl cleaner for cleaning your home bathroom, or kitchen tile grout, but if you use it too frequently and recklessly it can damage the grout sealant and grout itself. 
Using too much toilet bowl cleaner can dull its natural color. It produces fumes that cause skin irritation around your nose/eye and other sensitive body parts. Toilet bowl cleaner is also not an environmentally friendly solution to clean dirty grout.
This is why I've mentioned some natural methods to clean grout effectively without using harsh chemicals. 
---
FAQ
Q.1 How do you clean grout without ruining it?
Ans: You can use a steam cleaner that is very effective in grout cleaning without ruining it. Other best options are Homemade grout cleaner, Alkaline cleaner, Oxygen bleach, etc. I've mentioned 5 natural ways to clean grout effectively in this article.
Q.2 Can you use toilet cleaner to clean grout?
Ans: Yes, you can use a toilet cleaner to clean grout but don't use it in a large quantity, and don't leave it for a long period of time over the grout surface. Its fumes irritate you and using too much can damage the grout sealant.
Q.3 What can you not clean grout with?
Ans: Try to avoid vinegar and baking soda for grout cleaning. Also, avoid using toilet bowl cleaner because it contains sodium hydroxide and sodium hypochlorite like strong chemicals. Using them in large quantities for a long time can damage the grout sealant and the grout itself.
Q.4 Can you use Clorox toilet bowl cleaner to clean grout?
Ans: I've tried Clorox and Lysol both toilet bowl cleaners to clean grout and I found Lysol works very effectively to whiten the grout and clean all the dirt and grime from the grout faster than the Clorox toilet bowl cleaner.