If you are getting frustrated with the squeaky noise of your storm door closer and want to fix it without calling a technician then you are in the right place. 
A storm door closer is a small metal device that helps to keep the door closed with the help of a lever. Without proper lubrication, it will make your storm door jam or create an awkward squeaky noise that nobody wants to hear each time when he pulled the door to enter the home. 
Usually, people install storm door closers in three different ways, which are:
A top storm door closer.
A regular storm door closer.
A parallel storm door closer.
There are many reasons behind a noisy storm door closer such as lack of lubrication on the closer rod, dirt, debris, etc. You can lubricant your storm door closer using dry graphite lubricant spray, or silicon grease, by using penetrating oil on the closer rod and between the latches and hinge, and so on.
In this article, I'm going to share a detailed step-by-step guide to lubricating a storm door closer in the right way. 
There are lots of lubricants available in the market, but most of them are not good for your storm door. Whichever lubricant you choose make sure, it can lubricate the innermost parts of your storm door closer. We'll also discuss which types of lubricants are good for your storm door and which you have to avoid. 
So without further ado…
Let's get started…
How To Lubricate  Storm Door Closer [A Detailed Step-By-Step Guide]
Before lubricating your storm door, you need to first know what parts of a storm door need lubrication, these are listed below:
Storm Door Closer Rod.
Storm Door Hinge.
Latches.
Hinge Bushing Flange.
Different Parts Of A Storm Door Closer That You Need To Lubricate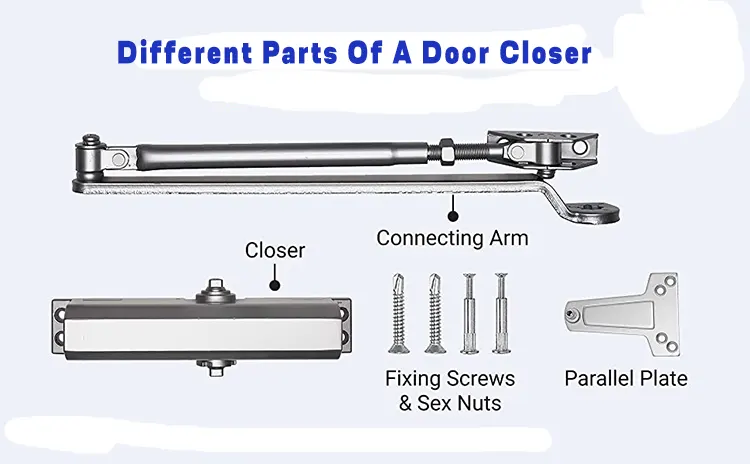 A storm door closer consists of these important components:
A connecting Arm
A closer
Fixing screws and nuts
A Parallel Plate
You need to first open all the fixing screws and nuts to lubricate a storm door closer thoroughly, but it requires some disassembly and assembly stuff. If you don't want to trap with such type of assembly and disassembly stuff then you can follow the below step-by-step guide to lubricate your storm door closer without disassembling it.
Simple Steps To Lubricate A Storm Door And Fix The Squeaky Noise:
Step 1: Clean The Closer Rod And Lubricate It Using A Proper Lubricant
First, make sure the closer rod of your storm door is cleaned properly. To do so you can use a clean cloth and a paper towel to clean it. 
After a thorough cleaning, close the door and apply the below-mentioned best lubricants on the closer rod all the way from one side to another. Make sure that every visible portion of your storm door closer rod must be lubricated. 
Now, open the door and close it again for few times so that the lubricating spray or grease can apply inside the closing bracket.  
According to Wikipedia," A storm door protects your home from bad weather and allows proper ventilation." Installing a storm door is a good investment if the main door of your home is old. With proper maintenance and lubrication a storm door could last 10 to 15 years.
Step 2: Clean The Storm Door Hinge
Now the next step is to clean your door hinge. Make sure the door hinges should be cleaned before lubricating them. You can use a paper towel or a clean cloth to wipe all the dust and dust residue from the storm door hinge and latches.
Step 3: Lubricate The Hinge Bushing Flange Of Your Storm Door
A hinge bushing flange is an important part of your storm door. It causes a very annoying squeaky noise if you do not lubricate it in the right way and with the right lubricant. 
Your storm door creates squeaky noise when the hinge bushing flange slide over the bushing surface. A bushing is located between the hinge rail and the hinge. 
Step 4: Apply A Dry Graphite Lubricant Spray  
To reduce the friction between the hinges, you need to apply a dry graphite lubricant spray to the storm door hinge bushing flange. 

Note: Spray the graphite lubricant top and bottom of the hinge bushing flange for better results. 
Also Read: Andersen Storm Door 2500 vs 3000: Choose The Right One
Step 5: Apply Silicon Lubricant
Silicon lubricant is an effective and long-lasting lubricant for your storm door because of the presence of Teflon Fluoropolymer. It is also a very effective lubricant that fixes the wear caused by constant friction between the hinge bushing flange and bushing. 

The good thing about this lubricant is it doesn't attract dirt, dust, and sand. The silicon lubricant is easy to apply and easy to clean. 
Step 6: Apply Plumber Grease
Plumber grease or silicon grease is a thick paste of Dielectric Grease that is very effective to provide long-lasting lubrication to your storm door. The good thing about this lubricant is, it 
doesn't spread on the unwanted place of your door. 

But applying it on the storm door hinge is a little bit difficult. 
Also Read: Larson Vs Andersen Storm Door[Don't Make Mistake]
Step 7: Use WD-40 Smart Spray
This is one of the easiest methods to lubricate a storm door. WD-40 Smart Spray comes with a long thin spray nozzle that is very effective to lubricate the hard-to-reach area of your door closer mechanism.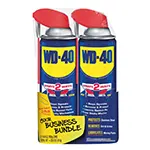 The good thing about this smart spray is it dries out the door surface and prevents moisture. It helps to lose the rust from the moving parts of your door. Its thin nozzle allows you to spray on a wide area and a narrow area with some adjustment on its nozzle. 
Conclusion
In conclusion, if you want that your storm door open and close silently and smoothly, you must lubricate its closer, hinges, and brackets with time so that you won't hear a squeaky noise and face a jammed door next time.
In this article, I've listed 7 different ways and some best lubricants to lubricate your storm door closer. This is a very simple step-by-step guide to lubricating your door closer.
FAQ
Q.1 How Long Do Storm Door Closers Last?
Ans: Storm door closers can last for 10 to 15 years if a homeowner can take proper attention to their maintenance. 
Q.2  Can You Grease A Door Closer?
Ans:  Yes, you can grease your storm door closer. I've mentioned some best grease lubricants in this article that are effective and provide long-lasting lubrication to your door closer.  
Q.3  Why Is My Door Closer Not Closing?
Ans: If your door closer is not closing properly then it may be because of dust, dirt, and residue, improper and lack of lubrication on the closer rod, and might be the closer rod and the internal assembly of your storm door closer is worn out.