People love sliding glass doors because these doors not only look beautiful and stylish but provide an aesthetic path between the outdoor and the room.
Otherwise, no one can enjoy the fresh soft wive of air and plentiful natural light inside the room.
But this appealing arrangement has some cons such as…
A sliding glass door is difficult to secure. Whether it is to prevent children to go out or to protect your home from intruders.
Attention…
I said difficult, not impossible.
Here in this article, I've mentioned some proven and effective ways to secure outside track sliding glass doors.
so stay tuned and keep reading.
How To Secure Sliding Door On Outside Track?
First, you have to understand that the outside track is not like an indoor track that can be blocked with a stick that is easily available on market. It requires some tricky DYI work.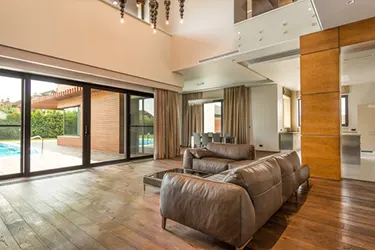 1. Keep The Door Lock If Not Necessary
You can keep your door locked if you don't need to use that room in which this sliding glass door is located. Glass doors can easily attract the attention of intruders due to their see-through nature. Anyone from outside can take a brief idea about the inside belongings.
If the sliding glass door is located in your home's backyard then intruders can easily run outside the home after stealing.
Tips: Protect your outside track sliding glass door by installing an extra lock system.
Also Read: Larson Vs Andersen Storm Door[Don't Make Mistake]
2. Take Proper Maintainance
If you notice that your sliding glass door is starting to get stuck, it's time to remove all the dust and debris from the slider. You can do this by these simple steps:
Pull the door out if possible, as an installed door is hard to clean perfectly. Especially it's inside and outside sliding track can be cleaned without removing the door but it can't be clean completely. Simply hold it from both sides with your hand and pull it out from its track by using a screwdriver.
Now you can clearly see the track of your sliding door. Now use a vacuum cleaner and remove the dirt, sand, leaves, and pet hairs from all the corners of the sliding track.
Oil particles can be cleaned by using a combination of mild hot water and soap solution. When the cleaning is done take a dry cotton cloth to clean it properly and after that apply a dryer to remove excess water vapor from the track.
3. Replace Outdated Rusted Components Of Your Outdoor Track Sliding Glass Door With New One
Components of the sliding glass door start to wear out over time. Check the latch, handle and lock system thoroughly, if found not in good condition replace them with the new one.
But this requires some manual DYI work, take the help of an expert and if you want to do this on your own, do this with patience and care.
4. Use A Dowel Stick To Secure Your Outside Track Sliding Glass Door
A dowel stick is something that's length can be adjusted according to the length of the track requires to lock the sliding glass door.
You can use it either inside or outside. Just place it between the door handle and door frame when the door is locked. Inside assembly is very simple just put it on the track of your sliding glass door by adjusting its length that requires.
If you want to arrange it on the outside track then keep it at some height from the track so that it can prevent any movement of the door handles.
5. Lubricate Your Sliding Glass Door Track For Smooth Movement
Nobody wants a harsh and crushing noise coming from their sliding glass door every time when they open and close it. You need to lubricate its track for a smooth sliding experience.
To do so…
Clean its track first by using the above-mentioned method.
When the track is cleaned properly, you need to apply some kind of lubricant to the track. I would recommend to you a very popular and very common lubricant that contains Mineral oil and spirit that is WD40.
Another very popular method to lubricate the both inside and outside track of the sliding glass door is to spray a light mineral oil on the surface of the track and move the sliding door back and forth to spread it evenly.
You can also apply petroleum jelly by using your finger or a brush gently to lubricate the outside track.
6. Tricky Approach To Secure Your Outdoor Track Sliding Door
I've mentioned a very simple trick here. You can use a sticker of any kind of alarming device just outside of the sliding door. It might be effective as it acts like a real alarming device is installed when an intruder monitors your house from the outside.
Wrap Up On How To Secure Outside Track Sliding Glass Door
No matter what technique tips and tricks you are going to implement, the priority is to secure your home from any inconvenience caused. The above mention tips and tricks may be effective for someone or not for others.
But these tips and tricks give you a rough idea about how to secure outside track sliding glass doors easily by using home tools.