Looking for the right steel blade for your tool must observe the type of steel. There are plenty of steel types are introduced from the beginning, and it becomes really a difficult task to observe their differences and similarities.
Earlier we also compared S110v with Maxamet and S30v and S90v. Check out these in-depth comparisons, if you are interested.
Today I'm going to discuss the differences and similarities between S110v and S30v Steel variants and which one is the right steel variant for you.
For your kind information let me introduce you to how we are comparing S110v with S90v…
What are they?
Their chemical composition and differences.
Specifications
Similarities
Differences
Which Steel type is best in which condition?
Which one is best suited for you?
S110v Vs. S30v: In-Depth Analysis
What is S110v Steel?
If you have ever used a knife then maybe it is made of S110V steel. S110V is a steel type that is highly wear and corrosion-resistant. This steel is the result of the combination of a definite ratio of Carbon, Chromium, Molybdenum, Vanadium, and Nitrogen.
We will read further about the role of each chemical component of S110V and their ratio in this article.
Does S110v Steel Good For a Knife?
S110v could be considered good steel for a Knife because of its two main characteristics:
High level of wear resistance.
Corrosion resistance.
Wear-resistant properties keep the edge of a knife, sharp for a long period of time, and allow a user to use it longer than the other steels.
Corrosion resistivity makes a knife withstand harsh weather conditions. The presence of Vanadium and Carbibe chemicals added toughness and wear resistivity to the S110V steel.
For Quick Understanding Have A Look At Their Performance Chart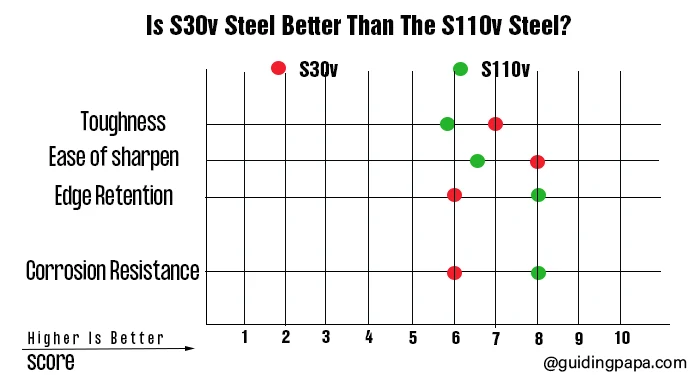 We have S110V in two distinct versions, one is Patent and the second one is Final.
S110v (Patent Version) Chemical Composition
| | | | | | |
| --- | --- | --- | --- | --- | --- |
| Carbon | Chromium | Vanadium | Molybdenum | Niobium | Cobalt |
| 2.8 | 14 | 9 | 3.5 | 3.5 | 2 |
The percentage of carbon in S110V is 1.35% higher than the S30V. The percentage of Chromium is almost the same in S110V and S30V. The high amount of Carbon and Vanadium make steel highly wear/corrosion resistant.
S110V comes with a high percentage of Vanadium & Molybdenum than S30V. It means the S110V steel is highly wear-resistant and tough and hard steel. The percentage of Molybdenum ensures that the steel must be tough and ductile.
Have a look at the Chemical Composition Of The Final Version Of S110v
| | | | | | |
| --- | --- | --- | --- | --- | --- |
| Carbon | Chromium | Molybdenum | Vanadium | Niobium | Cobalt |
| 2.8 | 15.25 | 2.25 | 9 | 3 | 2.5 |
You can clearly see that some changes are performed in the chemical composition of the S110V patent version to improvise its performance in its 2010 final version.
The final version comes with a high percentage of Chromium and Cobalt but a low percentage of Molybdenum, and Niobium. Here the percentage of Carbon keeps the same in both versions, which means both the steels would have the same hardness.
Advantages Of Using S110v In Knife Making
It has longer edge retention property because it has a high percentage of Vanadium which is responsible to increase the hardness of steel.
S110V is a tough steel type that can not break and chip easily.
S110V has a high amount of Chromium, Molybdenum which makes it wear/corrosion resistant.
Applications Of S110v
It is used in making barrels, barrel lines, screws, etc.
For making cutting tools such as Circular cutters, slitters, etc.
For making rough and tough knives for outdoor adventure trips such as Hiking, Hunting, Fishing, etc.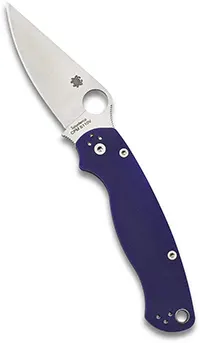 Spyderco Para Military 2 Signature Midnight Blue Knife
3.42″ CPM S110V Steel Blade
Durable G10 Handle.
Weight: 5 Ounces
The Para Military 2 features extreme strength, reliability, ease of use of our patented Compression Lock mechanism, and versatility of a 4-position pocket clip.
View the current price here
Also Read: S90v Vs S110v: Similarities & Differences
---
What Is S30v Steel?
S30v steel also known as CPM S30v is high-end steel. This is a powder-made martensitic (hardened) steel developed with the collaboration of the two most famous knife makers Dick Barber and Chris Reeve in 2001.
Does S30v Steel Good For A Knife?
S30v is made of Martensitic steel which is highly worn and corrosion-resistant. It has a high percentage of carbon, and a defined ratio of Molybdenum, and Vanadium. Steel is used to manufacture pocket knives and is also a very popular material to manufacture kitchen cutlery.
This is a very popular and reputed steel type for making the blade of steel knives even though it covers most of the steel-based tools market in America.
CPM S30v Or S30v Chemical Composition
S30v is made of a combination of different components, one of them being Corbon. Carbon is known to improve the hardness of steel and it also makes steel wear and corrosion-resistant. But it will reduce the strength of the steel if added in excess quantity. The carbon percentage in CPM S30v steel is 1.45%.
Nobody wants that the knife he is using loses its edge retention again and again and needs frequent sharpening. A chemical substance namely Chromium improves the strength and edge retention property of the steel and is also known for improving the wear and tear resistivity of the knife. The Chromium percentage in S30v is 14%.
The Main Chemical Components In S30v
| | | | |
| --- | --- | --- | --- |
| Carbon | Chromium | Vanadium | Molybdenum |
| 1.45% | 14% | 4% | 2% |
Other chemical substances which are used to improve the strength of the steel are used in S30v: Nitrogen 0.2%, Silicon 0.5%, and Phosphorus 0.3%.
To improve the machinability of the steel some other chemicals are used. Here I've mentioned the percentage of these chemical components in S30v which are Molybdenum 2%, and Sulfer 0.3%.
To improve the hardness and bitterness Manganese 0.5%, Vanadium 4%, and Tungsten 0.4% are mixed in the S30v.
Advantages Of Using S30v Steel In Knife Making
Highly corrosion and wear resistance.
The knives made with S30v are equal to or sometimes tougher than the 440C and D2.
Doesn't need frequent sharpening.
The S30v knives come with excellent edge retention properties.
Applications Of S30v
S30v is premium-grade knife steel.
Steel is widely used in the plastic industry for plastic injection.
For making extrusion feed screws and dies.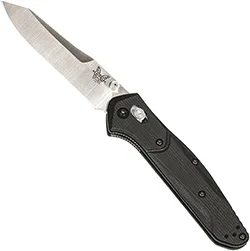 Spyderco Para Military Steel Blade With G-10 Handle
Full Flat Grind.
Made In the USA.
3.42″ Blade & 8.24″ Length
View the current price here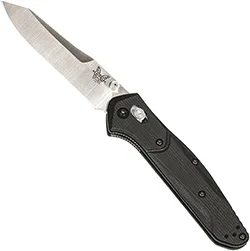 Benchmade 940 EDC Manual Opening And Closing
Reversible, Lightweight, Locking Blades
G10 Handle, G10 Handle
Alloy Steel
View the current price here
---
S110v and S30v: Properties
Hardness Test
According to the Rockwell test results, the hardness of S110v goes high to 63.5 HRC, The score is a little bit higher than the S30v, which hardness is between 58 and 61 HRC.
The Rockwell hardness score stated that the S110v is slightly better in hardness than the S30v.
Toughness Test
S30v is tough steel and perform better than the S110v in some hard situations such as hiking, survival test, camping, etc.
Wear & Corrosion Resistance Test
No doubt S110v is a clear winner in the wear and corrosion resistance capability that the S30v steel. This is because S110v has a high carbide which is non-chromium and the addition of Niobium (Wear resistance Carbide) is also a plus point for S110v which is missing in S30v.
Edge Retention and Ease Of Sharpening Test
S110v is tough steel and can hold its edge for a longer period of time and doesn't need frequent sharpening, but it is hard to sharpen S110v and takes lots of time for this.
Whereas S30v is soft carbide steel and is much easier to sharpen. This is good steel if you like to sharpen the steel yourself, but its edge retention capability is less as compared to S110v.
Chemical Composition Comparison
| | | | | | | |
| --- | --- | --- | --- | --- | --- | --- |
| | Carbon% | Chromium% | Vanadium% | Molybdenum% | Niobium% | Cobalt% |
| S30v | 1.45 | 14 | 4 | 2 | – | – |
| S110v | 2.8 | 15.25 | 9 | 2.25 | 3 | 2.50 |
Does S30v And S110v Steel Rust?
You don't need to worried about getting rust in these two sheets of steel, because they both consist of 14% Chromium which means they both are stainless steel.
S110v is more stainless steel than the S30v due to the presence of 1.25% more chromium substance.
Note: If you want to use your knife for a longer time without rusting, just wipe it with a dry cloth will extend its life and prevent any rusting.
---
Differences Between S30v And S110v
S110v has some improvement over the S30v steel.
S110v has Niobium and Cobalt which makes it better in wear and corrosion resistance than the S30v.
The toughness of the S30v is better than the S110v.
S30v is good for outdoor adventures such as hiking, camping, etc.
S110v is good for kitchen uses because it is hard to sharpen.
Conclusion: Which Steel Blade Is Right For You Between S30v And S110v?
Both the steel are better in different circumstances such as S30v is much easier to sharpen. If you have to sharpen the knife on your own then must go with S30v. S30v is much easier to sharpen than the S110v.
On the other hand, S110v has better edge retention than S30v and doesn't require frequent sharpening. The toughness of the S30v is better than the S110v.
The S110v steel is more wear and corrosion-resistant than the S30v.
So the conclusion is both the steels are best. Choose according to your preferences.