Having beautiful, aesthetic, spacious, and functional closets at home is a blessing for a homeowner. Closets play a very important role to organize our life. we use them for storage. We use them for everything, from clothes to books to shoes, etc.
There are two very famous players in the market in the field of custom-made closets, and many people are confused between Closets By Desing Vs Closet Factory.
Closets by Design and Closet Factory are both excellent companies, offering a wide variety of closet systems and furniture for people who need to re-organize their closets. Both of them have been in the business for many years, and both have earned a reputation for providing high-quality products and customer service.
The question remains,
Which is the better company?
The answer is, that they both have their advantages and disadvantages. We will compare the two companies and discuss what makes them different.
So without further ado…
Let's walk through every single detail about these two brands so that you can make the right decision. 
Closets By Design Vs. Closet Factory: Differences & Similarities
Every brand has its tough past with many challenges, and opportunities to grow. And if you look back at the history of the most successful brands, you will see that they all had to deal with countless problems and difficulties before they were big. So, let's have a look at their history in the nutshell.
History Of Closets By Design
Closets By Design was born in 1982 with the vision of providing people a way to customize their closets in a way it looks more attractive and efficient than before. 
The vision is very clear to provide customer tailer closets with the commitment to provide total customer satisfaction. 
History Of Closet Factory
Closet Factory has delivered outstanding service in the field of making custom closets since 1983. At that time the company wanted to expand its business in Los Angles and California, unfortunately very few discerning people knew about the closets at that time. 
Now the company has a wide range of products from wardrobe boxes to full-size closets. It has become the most popular brand in the market and is highly appreciated by many consumers. 
Also Read: California Closets Vs Closet Factory:[Choose Wisely]
---
Product Line Up And Features
Closet By Design (Designs And Style)
Closet by design manufactures these two closets:
Walk-In-Closets
Reach-In-Closets
These two categories are further divided into 4 different types which are mentioned below:
Everyday Collection
Classic Collection
Regency Collection
BRIO Collection
The everyday collection comes with a simple and practical design. This ensures that you won't spend too much time selecting a wardrobe for your daily office trip.
The classic collection is for those who want a traditional touch on their closet. The classic collection comes with soft edges with half overlay doors and shelves.
If you want an 11/8″ thick panel with 3/4″ shelves, then the Regency collection is the right choice for you. Tilt-out hampers, and islands, are some of its specialties.
If you are a fan of luxury items then have a look at its BRIO Collection. The BRIO collection comes with a bold and modern look.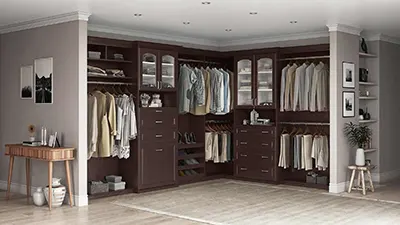 Also Read: Closet By Design Vs Closet America:Choose The Right One
Closet Factory Design And Features
The choices are vast when you visit Closet Factory after the Closet By Design. In terms of design, aesthetics, quality, and longevity both brands are unique.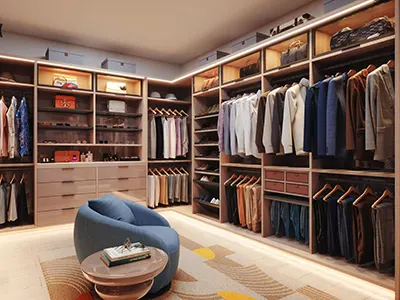 Closet Factory offers 8 different types of closets to its customers which are listed below:
Closet Organizers
Dressing Rooms
Finesse Systems
Reach-In-Closets
Shoe Closets
Walk-In-Closets
Wardrobe Closets
Wood Closets
Closet Organizers: Closer Factory has a huge gallery of different closet organizers to inspire with the design, size, space, and functionality for making your custom closet. If you are going to build your very first closet then here you can get every single detail, from planning, size ideas, design ideas, budget, everything.
Dressing Rooms: Looking for some ideas for designing a dressing room at home, the closet factory has unlimited options to utilize every kook and crook of your room. 
Finesse Systems: Based on the Italian home design this is quite different from the other floor-based closets, here you will get floating shelves, drawers, and hanging rods which provide a minimalistic look and aesthetic design to your room,
Reach-In-Closet: The Reach-in closet is an ideal closet system that gives the user the ability to keep their clothes away from the door and out of sight, providing the user with a well-organized and functional closet system. 
Shoe Closets allow you to store, organize and display your collection of your shoes artfully. Shoe Closets are usually found in the living room, hall, bathroom, or bedroom. Closet factory helps you to design and install your dream shoe closet at your home.
Walk-In-Closet: The best part of having a walk-in closet is being able to keep your clothes organized and easy to find. In Closet Factory you have a bunch of options to select the right size, and design according to your budget. The best way to organize your closet is by hanging clothing on hangers with labels. 
Wardrobe Closet adds closet space in your bedroom having no closet earlier or adds extra space if your existing closer system doesn't have one.
---
Material
This ensures the overall life of your custom-made closet. Material for a closet should be durable enough to last for years.
Finish: The type of finish you choose will depend on your taste and your budget. Wood, lacquer, or paint are some common finishes for closets.
Design: When it comes to designing your closet, you can go with a modern, simple or traditional design. 
What Material Does Closet Factory Use?
Closet Factory uses different types of material in its manufacturing units and one of the most commonly used materials is melamine.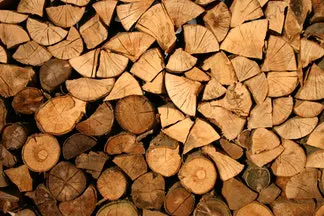 Melamine is hard plastic, which is a white, and odorless substance known for its strong chemical resistance properties. It is a durable and sturdy material and can be used to make many different types of products. The other commonly used material in the manufacturing of closet factories is wood, which is also a very common material used for the production of different types of furniture and kitchen appliances.
Closer Factory has different types of colors and patterns to choose from such as:
| | | |
| --- | --- | --- |
| Solid color melamine | Wood grain melamine | Textured melamine |
It has different types of wood species such as maple, oak, African Mahogany, Custom stained wood veneers, etc. Many companies don't offer staining and painting facilities but Closet factory does.
For the wellness of our planet, Closet Factory uses sustainable resources in its manufacturing units. They are trying to reduce wastage by using recycled wood panels.
Moreover, they stood by their commitment by purchasing 50% CPA EPP-certified composite wood products. Some other noticeable efforts toward making this planet healthy and clean are:
Only use FSC Certified wood.
They are NAUF-free to match the CARB standard.
They use water-based stains and paints to reduce airborne particles.
What Material Does Closet By Design Use? 
Closet by design is also used melamine, wood, plastic, and a blend of fabric in its manufacturing unit.
The design of the closet can be simple or elegant, but it should be well-designed to ensure a good space for storing clothes.
It has 3 finishes with seven options in each. It has several solid colors some are white, Antique white, summer drop, shadows, black, moonlight, etc. 
Wood grain colors are for those who want a natural touch on their modern design closets, chocolate peal tree, candlelight, and rustic cherry are some other available options to choose from. 
Closet-by-design BRIO series and VIVA series are known for their unique and aesthetic texture. Closet-by-design has three varieties of doors and drawers, and a wide variety of handles, knobs, and other accessories.  
---
How Easy & Convenient To Order From Them?
Brands need to provide a very simple and convenient way to order the product either from their local store or from the online store.
Why this is important for their business?
The reason behind this is that if they are not able to provide the customers with such an easy process, then they will lose out on a lot of business. So, they have to make sure that the customer can order the product without any kind of hassle.
Also, the customer has to be able to order the product in the most convenient way possible. This will also help them to increase the conversion rate.
Closet-By-Design Ordering Procedure
First, fill out the free in-home design consultation form from their website. The foam is very simple, and asks you the following information:
Your name
Your phone number (Daytime & Evening time)
Complete Address
How did you hear about them?
Your design of interest means which kind of closet you want to buy.
First choice and then the second choice of appointment time and date.
comment section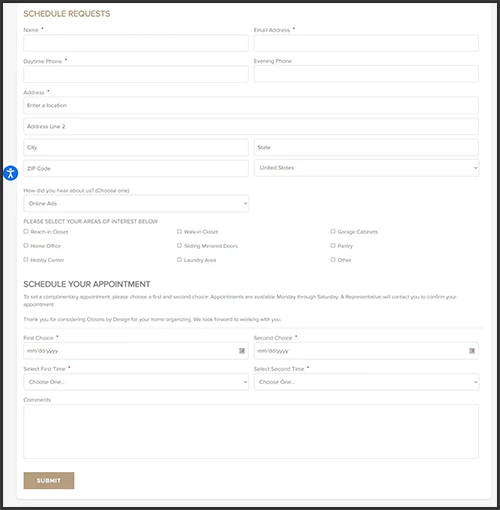 The form asks you for some basic information such as your address, name, etc, and your area of interest. Fill out the form completely, and within a few hours you will receive a call from their customer support team.
After that, a local design consultant will be selected who visit your home at the time at which you are free. He/she inspect the place where you want to install a closet, take proper measurement, ask your requirement, give some design ideas, and when you are satisfied they send the design to the manufacturing unit.
Closet Factory Ordering Procedure
The closet factory ordering procedure is also simple and hassle-free. You have to schedule a free appointment form on their website and they will arrange for a local design expert who visits your home at the time that you find most suitable for you.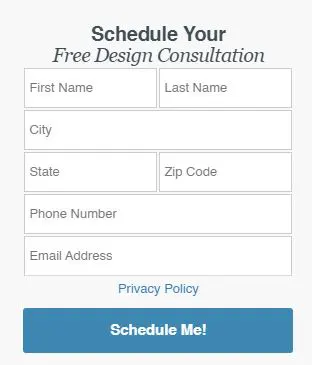 This is a free in-home design consultation service without extra charge. 
---
Delivery & Installation Procedure
What does a customer want from a brand?
In most cases same-day delivery is, but this is not possible if you are ordering a custom-made closet. Still, one week is the ideal delivery time. Installation should be done by the brand itself because people don't want to stick in the situation to hire an expert technician from an agency, and paying a high sum for that. 
The delivery and installation charges must be reasonable. 
Delivery And Installation Services Closet Factory And Closet-By-Design
Closet-By-Design provides a decent delivery and installation service. Closet-By-Design and Closet Factory both sent their expert technicians for installation of your closet within 30 days post-order.
Closet-By-Design also dismantle of exiting closet system, that is very rear. The existing closet system is removed by their extert technician without extra cost.
---
Price
Closet Factory Pricing
The cheapest of its other closet options is its reach-in closet, which costs between $250 and $1600. It will cost you between $700-$3000 for its Walk-in-closet and $6000 for its Built-in-wardrobe.
Closet By Design Pricing
Closet by design custom-made closets will cost between $2000 and $10000. The size, space, and complexity of the design affect the price. The average cost of a closet without a wall interior could be $3500.
Warranty And After-Sale Service
Closet-By-Design offers a lifetime warranty to its current home buyer and also to the new homeowner of your home. It means their lifetime warranty can be transferable.
The Closet Factory also offers a limited lifetime warranty to their closets and you can claim your warranty for any manufacturing and workmanship defect.
---
Closet Factory Vs Closet By Design: Which One Is Worth Buying?
Both brands offer some unique and best designs for a custom-made closet, but there are some differences in terms of services, quality of materials, designs, and after-sale services. 
The Closet Factory has a nice collection of different closets. You can take ideas from its huge gallery, also they have a blog section on its site to get some ideas about the design, material, hardware accessories variety, etc.
Both brands offer free In-home design consultancy services by simply filling out an online form on their website. 
Both the brands offer a limited lifetime warranty on their products, to the original homebuyer, and it is transferable too. 
I will highly recommend to visit their local showroom and spending some time over there, seeing the designs, materials, and staff behavior, giving your requirements, and let's see which brand seems more trustworthy and will satisfy your need. 
---
FAQ
Q.1 Can We Negotiate With Closets By Design?
Ans: Yes, we can. They have a phone number and a free consultancy form, to schedule a free home visit appointment. From time to time some discounts and offers are also provided by the brand on its site. 
Q.2 What Material Does Closet By Design Use?
Ans: They use a combination of high-quality fabrics and a great range of accessories to provide you with the best possible closet.
Q.3 How Much Does Closet By Design Cost?
Ans: The total cost for a Closet By Design is dependent on various factors, such as the space, design, material, hardware accessories, etc. They are competitively priced.
Q.4 Does Closet Factory Use Real Wood?
Ans: The closet factory doesn't commit to using real wood they are trying to utilize recycled and sustainable sources of wood in their manufacturing unit.