When you are looking for a custom-made closet, there are many different options out there. We all have a certain amount of space in our homes, and we need to find ways to maximize that space. 
One of the best things about building your own custom closet is that it gives you the flexibility to customize it exactly how you want it.
But the market is full of numerous choices, and many people are confused between the two most promising choices which are California closet and Closet factory.
If you are in a dilemma about…
How to choose the right one between California Closet Vs Closet Factory?
What are the pros and cons?
Which one is cost-effective, comes with good quality, and is easy to use?
Which one is perfect in terms of size, style, and storage capacity?
How do they compare in terms of durability and longevity?
Then in this post, we compare the two leading closet manufacturers, Closet Factory and California Closet. We take a look at what makes each company better than the other, as well as how you can save money when you buy from one of these companies.
So without further ados let's break it down.
California Closets Vs Closet Factory: Which One is Better for Your Home Storage Needs?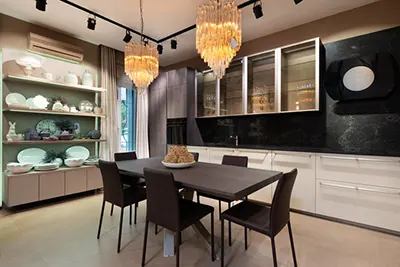 Let's have a look at their history, in a nutshell, to understand them better. 
History Of California Closets
California closet is a dream of an 18-year-old college student, who was unsatisfied with his dorm room closet and wanted to maximize its space and functionalities.
Later on, This small idea turned into a successful small business in Southern California.
The closet company now has many years of experience in manufacturing custom closets. It is the most popular brand and has a wide range of products from wardrobe boxes to full-size closets.
History Of Closet Factory
Closet Factory has delivered its outstanding service in the field of making custom closets since 1983. At that time the company wanted to expand its business in Los Angles and California, unfortunately very few discerning people knew about the closets at that time. 
Now the company has a wide range of products from wardrobe boxes to full-size closets. It has become the most popular brand in the market and is highly appreciated by many consumers. 
---
Closet Factory Vs California Closet:[Features In Detail] 
California Closet Design And Features
California Closet is an international brand that offers 5 different types of closets to their customers which are:
Custom Closets
Walt-In Closets
Reach-In Closets
Wardrobe Closets
Kids Closets
Custom closets are perfect to organize your dream room with a traditional and modern feel. you can customize everything according to your requirement.
Walk-in closets allow you to take a quick decision about which wardrobe will best suit your ongoing event. The benefit of having a walk-in closet at home is, that you can see everything like clothes, accessories, and shoes, at a glance.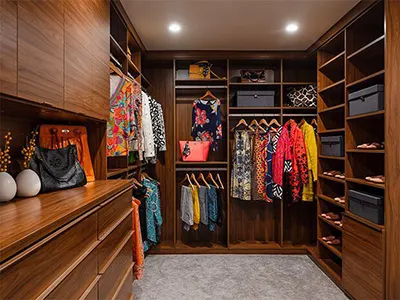 A reach-in closet is a practical space where you feel your room becomes more beautiful with a perfect balancing of storage and style.
Wardrobe closets are different in design and feel. They use custom-crafted furniture in design and sliding wardrobe doors look like they fit naturally into the space.
Kid's Closets are fully customizable and could be the perfect storage solution according to their growing body.
Also Read: California Closets Vs Ikea:[Similarity & Differences]
Closet Factory Design And Features
The choices are vast when you visit Closet Factory after the California Closet. In terms of design, aesthetics, quality, and longevity both the brands are unique.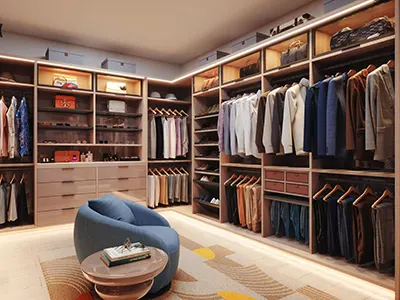 Closet Factory offers 8 different types of closets to its customers which are listed below:
Closet Organizers
Dressing Rooms
Finesse Systems
Reach-In-Closets
Shoe Closets
Walk-In-Closets
Wardrobe Closets
Wood Closets
Closet Organizers: Closer Factory has a huge gallery of different closet organizers to inspire with the design, size, space, and functionality for making your own custom closet. If you are going to build your very first closet then here you can get every single detail, from planning, size ideas, design ideas, budget, everything.
Dressing Rooms: Looking for some ideas for designing a dressing room at home, the closet factory has unlimited options to utilize every kook and crook of your room. 
Finesse Systems: Based on the Italian home design this is quite different from the other floor based closets, here you will get floating shelves, drawers, and hanging rods which provide a minimalistic look and aesthetic design to your room,
Reach-In-Closet: The Reach-in closet is an ideal closet system that gives the user the ability to keep their clothes away from the door and out of sight, providing the user with a well-organized and functional closet system. 
Shoe Closets allow you to store, organize and display the collection of your shoes artfully. Shoe Closets are usually found in the living room, hall, bathroom, or bedroom. Closet factory helping you to design and install your dream shoe closet at your home.
Walk-In-Closet: The best part of having a walk-in closet is being able to keep your clothes organized and easy to find. In Closet Factory you have a bunch of options to select the right size, and design according to your budget. The best way to organize your closet is by hanging clothing on hangers with labels. 
Wardrobe Closet adds closet space in your bedroom having no closet earlier, or adding extra space if your exiting closer system doesn't have.
Also, check out the in-depth comparison of California Closet and Inspired Closets.
---
Style
Custom closets are currently in trend because they can enhance the overall look of your home and its resale value too. 
Closet Factory has experienced designers with a bunch of amazing designs to meet your requirement under your budget. 
Their custom-made closets are stylish and come with a detailed finish which makes them a perfect choice for a homeowner. They have amazing color variations that can match your home interior.
Whereas California Closet also has a wide variety of options with some aesthetic designs without compromising the quality. 
You will find variations in style and finish as per different locations. In some cases, I found California closet is better than the closet factory in some parameters. 
Also Read: Container Store Vs California Closets: Similarity & Differences
Material
What if your closet is made of a strong, and environment-friendly material. Understanding the type of material that a closet company uses to manufacture your closet is a must also it must have environment-friendly properties. 
Let's find out…
What Material Does California Closet Use?
The main aim of this brand is to provide an environmentally sustainable option to their client. Their custom-made and pre-build closets are solely made from recycled wood that is not only safe for your family but also is a one-step to make our surrounding environment better and healthy.
Also Read: California Closets vs Elfa:Choose The Best One
California Closet three finishes come with CARB(California Air Resources Board) certificate, which are…
Classic
Lago
Tesoro
You will get a huge variety of beautiful colors and textures in these designs.
California Closet doors and drawers are made of recycled and reclaimed wood that is not only good for your family's health but also achieves credit from LEED 2009 and LEED v4 standards.
If you don't know about LEED then this is a nationally recognized system that is established by US Green Building Council and its full form is 'Leadership in Energy and Environmental Design.' The aim of this organization is to promote green energy and environment-friendly activities and help to educate people to produce and purchase environment-friendly products.
Some of their translucent doors and drawers, inserts, and back panel are made of natural material in which 40% of the material that is used is made of recycled content.
California Closets are also certified by UL GREENGUARD. This is an environmental institute that aims to reduce the pollution from indoor air and improve its quality. They tried to minimize human interaction with chemicals and other pollutants.
Also Read: Easy Closets Vs California Closets:[Which One Is Better?]
What Material Does Closet Factory Use?
Closet Factory uses different types of material in its manufacturing units and one of the most commonly used materials is melamine. 
Melamine is hard plastic, which is a white, and odorless substance known for its strong chemical resistance properties. It is a durable and sturdy material and can be used to make many different types of products. The other commonly used material in the manufacturing of closet factories is wood, which is also a very common material used for the production of different types of furniture and kitchen appliances.
Closer Factory has different types of colors and patterns to choose from such as:
| | | |
| --- | --- | --- |
| Solid color melamine | Wood grain melamine | Textured melamine |
It has different types of wood species such as maple, oak, African Mahogany, Custom stained wood veneers, etc. Many companies don't offer staining and painting facilities but Closet factory does.
For the wellness of our planet, Closet Factory is also used sustainable resources in its manufacturing units as California Closet does. They are trying to reduce wastage by using recycled wood panels.
Moreover, they stood by their commitment by purchasing 50% CPA EPP-certified composite wood products. Some other noticeable efforts toward the making this planet healthy and clean are:
Only use FSC Certified wood.
They are NAUF-free to match the CARB standard.
They use water-based stains and paints to reduce airborne particles.
---
Colors & Patterns
Beautiful and elegant colors grab people's attention and unique and aesthetic patterns admire by others. The closet factory has two choices in its colors and pattern segment which are:
Solid color
Wood grain pattern
The closet factory uses some paint-grade materials such as Plywood and MDF. But its designers make changes in the pattern and colors as per the customer's demands and budget.
California Closet's, classic and contemporary patterns are very famous. White, Ivory, Cashmere, dove, etc some most widely used colors in the California closet.
---
Ordering & Installation Procedure
California Closet Ordering Procedure
I found the ordering procedure and the overall ecosystem of tackling the customer's problem, getting their ideas, and adding their expertise into the design is way better than any other brand.
Customers don't hesitate to pay an extra amount for what they deliver them. The overall ordering procedure of California Closet is very simple. You don't need to worry about anything.
You can arrange an appointment with their expert consultants either by calling them or on their website. Their consultancy service is free of cost. After the appointment is fixed, the company sends a local expert consultant to your home, to discuss everything like what is your design ideas, how big, and small the space is, take the proper measurement, and give suggestions to utilize the whole space properly, etc.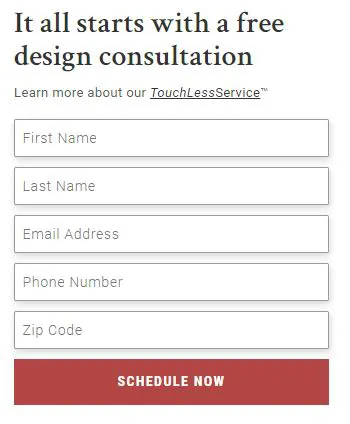 Trust me the overall procedure is going to be headache-free and you feel relaxed and confident that your dream closet will be totally worth every penny, that you are going to spend.
When the design is finalized, you can see the actual computer-generated 3D design in your empty space which is amazing.
Closet Factory Ordering Procedure
The closet factory ordering procedure is also simple and hassle-free. You have to schedule a free appointment form on their website and they will arrange for a local design expert who visits your home at the time that you find most suitable for that.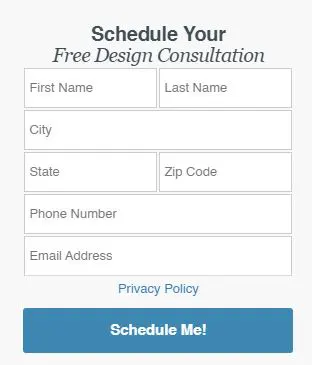 This is a free in-home design consultation service without extra charge. 
Installation Procedure
The installation procedure of both the companies is almost the same. Both the brands offer a completely hassle-free service from ordering, designing, and manufacturing to installation.
If you face any problem after the installation, you have to contact their customer care representative.
---
Price
California Closet Pricing
The installation charge is included in their final price. Their installation is headache-free as the expert technicians deliver the custom-made closet and install it in most cases the same day of delivery. It will cost you roughly between $3000 to $5000.
Closet Factory Pricing
If you are interested in its reach-in closet then it will cost you between $250-$1600, which is the cheapest of its other closet varieties. Similarly, its Walk-in-closet will cost you between $700-$3000, and its Built-in-wardrobe will cost you much higher and goes to $6000.
Warranty
Warranty of California Closet
California closet offers a limited lifetime warranty for their closets as long as you own the home and the closet system remains in the place where it was installed. 
Warranty Of Closet Factory
The closet factory also offers a limited lifetime warranty to their closets and you can claim your warranty for any manufacturing and workmanship defect.
---
Which One Is Worth Buying? (Conclusion)
Both the brands are premium and would never compromise the quality of the material. The differences are in their services, design, how easy and quick the overall procedure and after-sale services.
California closet offers an online 3D design software where you can assign the space dimensions and you can create your own design according to your needs. You can also consult and present your design to their expert designers for further improvements.
This feature is missing in Closet Factory. You need to consult their expert and schedule a visit to go further.
Both the brands offer some really impressive designs and patterns to their customers. I would highly recommend visiting their local store, communicating to them, highlighting your needs, and your budgets, and choosing the one that can most satisfy your needs.
FAQ About California Closet Vs Closet Factory
Q.1 Does California Closet Use Melamine?
Ans: Melamine is the most commonly used material in many closet manufacturing companies.  it is cost-effective and strong. Melamine is widely used for kitchen cabinets, office cubicles, and closets. Not only California closet but some other top brands like Closet Factory, Spaceman, etc are also used it. 
Q.2 Does Closet Factory Use Real Wood?
Ans: The closet factory doesn't commit to using the real wood they are trying to utilize recycled and sustainable sources of wood in their manufacturing unit.
Q.3 What Kind Of Wood Does Closet Factory Use?
Ans: Closet factory commits to using substrates of the 100% recycled wood. The wood is sourced from a responsibly manage and sustainable forest. 
Q.4 Where Are California Closets Made?
Ans: California Closets is made in the U.S.A with imported materials. Their largest manufacturing unit is located in Phoenix, Arizona. It is one of the largest closet manufacturers in the U.S.A.