I've been working on my home for years. And in the process of renovating and remodeling it, I've learned a lot about the different brands of wood, paint, and other materials that are used in home renovation projects.
Home renovations can be a great way to increase the value of your property, but it's a big decision. Not only will you have to decide which brand to use, but you'll also have to decide how much you want to spend. Even choosing the best doors, windows, and closets for a new home puzzle many homeowners.
I've already compared California Closet with Tailored Living, Closet Factory, Ikea, and many more. You can check out them if you are interested.
Today I'm going to share a detailed analysis of the two most popular brands namely Inspired Closets Vs. California Closets. 
Let's have a look at which one is the best choice for your home and what features they offer to its customers.
To make the comparison feasible, I'm going to compare them according to the following parameters:
Brand reputation and a brief history.
Product lineup
Ordering procedure
Delivery and Installation procedure
Price
Warranty
What are the brand's After-sale services?
So without further ado
Let's break it down.
Inspired Closets Vs. California Closets: Which One Is Better
First understand the brief history of these two brands, so that we can know better about their origin, brand identity, and their market reputation. 
History Of Inspired Closet
Inspired Closets came into existence in 1980 with the aim to provide a complete storage solution for your home every nook and crook. 
They have a wide variety of products in different categories such as closets, garages, kitchens, pantries, laundry rooms, etc.
Inspired Closets has hundreds of experienced designers, showroom coordinators, and installers. 
The company has been established two years of the California Closet which means it is in the home organization market for a pretty long time. 
Headquarters: Holland, Michigan
President: David Smith
History Of California Closets
Neil Balter started California Closet in the year 1978. There are custom-made closets and home organization services offered by the company. The popularity of the California Closet is more than Inspired closets. 
The concept of closet reorganization is almost unheard of in 1978. The idea of showcasing the design to its customers is completely new and revolutionary. This simple concept has become a successful business idea later on. 
The company also works with new technology and introduce virtual reality design exhibitions to its customer in 2017. The company is old and provides quality services to its clients. A good reputation and trust are what it has.
Headquarter: Richmond, California, USA
CEO: Anthony Vidergauz
---
What Are The Product Lineup of California Closet And Inspired Closets
Every brand tries to offer some unique and authentic products to its customers. let's have a look at which brand offers how many different products and services to its customers. 
Inspired Closets Product Lineup
The products of the Inspired Closets are divided into these categories:
| | | |
| --- | --- | --- |
| Closets | Pantry | Garage |
| Laundry Room | Home Office | Entryway |
| Murphy Beds | Entertainment | – |
Closets:
Inspired Closets offers three different types of closets to its customers which are:
1. Boutique: Boutique offers different storage solutions to organize your shoes whether they are tall boots or small flats. You will get different design options here. They mention the installation time with each design which is from 1 day to 5 days depending on the choice of your design. 
2. Walk-In-Closets: They have many different designs in their walk-in-closets. You can either choose from their pre-built design or appoint a design consultant to design a custom-made walk-In-Closet.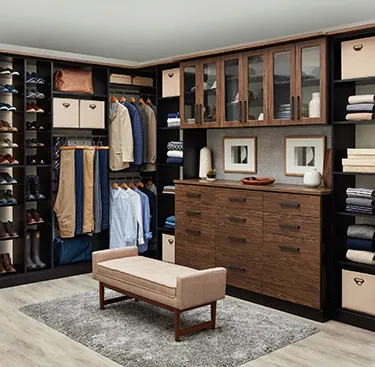 Their pre-built walk-in closet will be delivered within 1 to 2 days of ordering. Walk-In-Closets come with some special features such as a pull-out hamper, adjustable Shoe Shrine, and a functional walk-in closet peninsula. 
3. Reach-In-Closets: This is a good way to organize things behind the closed door. You can choose different designs such as kid's reach-in-closets, teen's reach-in-closets, etc. 
Normally reach-in-closets can be installed in 1 day. 
Garage:
Inspired closets garage section has different designs to meet the need of every homeowner. Usually, the installation time of this is between 2 to 3 days. It has many different color options to choose from. 
Some special features are cabinets with hinged or sliding doors, shoe storage,  hooks, baskets, and magnetic toolbars for easy accessibility of items.
Pantry:
You have different corner shelves to choose from for better utilization of space. Pull-out drawers, Sheet pan storage are some special features of its Pantry section. 
Laundry Room:
The laundry room comes with some useful features such as open basket storage solution, folding corners, Drying racks, a hanging station, and more for your family.
Home Office:
Inspired closets offer large cabinet file drawers, beautifully designed workspace, and unique printer storage, to ease your work and enhance your productivity.
Some Additional Storage Solutions
You can also design your entryway, entertainment zone, and murphy beds by either choosing their pre-built designs or consulting for custom made. 
California Closet Product Lineup
The California Closet has a variety of products designed to fit any type of closet. Whether you're looking for a small bathroom storage solution or a larger closet organization system, the California Closet has a wide variety of products designed to meet your needs.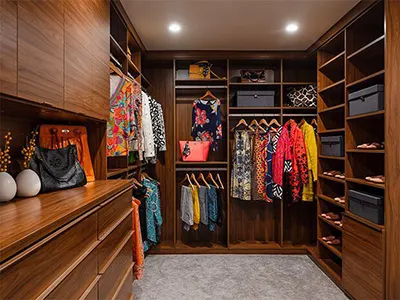 The California Closet product lineup is comprised of the following categories:
| | | |
| --- | --- | --- |
| Bedroom | Living Area | Garage Storage & Organization |
| Work Space | More Other Rooms | By Collection |
| By Style | – | – |
Bedroom:
There are many types of closets in your bedroom, and each type is designed to hold a certain type of item. California closet has the following closet options that you can install in your bedroom according to your need and budget:
Custom Closet
Walk In Closet
Reach In Closet
Wardrobe Closet
Kids Closet
Living Area:
If you are a family person or someone who has to live with others, then you can easily get overwhelmed by the amount of stuff you need to store.
But don't worry California Closet has some innovative ways to organize and store your living area.
With California Closet you can organize your Family room, Entertainment Center, Playroom for kids, and of course your Mudroom. 
Garage Storage Solutions With Californa Closet
California Closet not only takes care of your home storage solutions but also of your garage. The California Closet has a wide variety of garage storage systems.
There is a whole series of options for you to choose from. You can get a custom-built cabinet system or one that is pre-built. You can choose to have cabinets that are built into the floor or wall. 
You can also organize your garage and have a nice workbench to keep your tools. California Closets can help you do that.
Work Space
A workspace is a creative place for professionals. Whether you do work at home, or in your office it must be organized, stylish and comfortable for work and play. 
California closet comes with several design ideas to remodel your home office, craft room, and your library. 
Also Read: You can also check out the in-depth comparison of California Closets with Container Store, Elfa, and Easy Closet.
---
Material
Choosing the right material for your home is a very important decision. It can make or break your overall interior design. As a result, you need to know exactly which materials are best suited for your home and the environment you live in.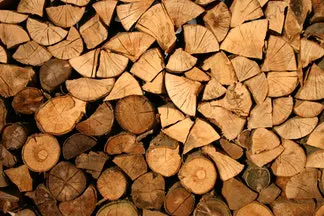 Let's have a look at which brand offers the best quality materials in their product manufacturing and how sustainable they are.
What Material Does California Closet Use?
The main aim of this brand is to provide an environmentally sustainable option to their client. Their custom-made and pre-build closets are solely made from recycled wood that is safe for your family and a one-step to make our surrounding environment better and healthy.
California Closet three finishes come with CARB(California Air Resources Board) certificate, which are…
Classic
Lago
Tesoro
You will get a huge variety of beautiful colors and textures in these designs.
California Closet doors and drawers are made of recycled and reclaimed wood that is not only good for your family health but also achieves credit from LEED 2009 and LEED v4 standards.
If you don't know about LEED then this is a nationally recognized system that is established by US Green Building Council and its full form is 'Leadership in Energy and Environmental Design.' The aim of this organization is to promote green energy and environment-friendly activities and help to educate people to produce and purchase environment-friendly products.
Some of their translucent doors and drawers, inserts, and back panel are made of natural material in which 40% of the material that is used is made of recycled content.
California Closets are also certified by UL GREENGUARD. This is an environmental institute that aims to reduce the pollution from indoor air and improve its quality. They tried to minimize human interaction with chemicals and other pollutants.
What Material Does Inspired Closets Use?
It is a fact that all material has an effect on our environment. The choice of material should be based on the wellness of our environment and our planet.
The material of your closet is also a major thing to consider. There are many materials that can be used for making the closet including wood, plastic, metal, and fiberglass. 
And Inspired closets is committed to using eco-friendly materials in its manufacturing unit. In which scrap wood and wood fibers are included. Even they use these materials in manufacturing their majority of products and also in packaging. 
Inspired wood is also involved in the activity of recycling. They recycle 94% of total waste, and 100% of wood fiber, wood scraps, metal, cardboard, copper wire, etc.
---
Ordering Procedure
The process of an order can be a big part of a brand. How the customer is treated, how the product is presented, and how the brand is perceived by the customer.
It is important to understand the customer's needs and expectations in order to establish a strong relationship with the customer.
Let's understand which brands offer different ordering options and how convenient it is to order different products from them. 
California Closet Ordering Procedure
I found the ordering procedure and the overall ecosystem of tackling the customer's problem, getting their ideas, and adding their expertise into the design is way better than any other brand.
Customers don't hesitate to pay extra for what they deliver. The overall ordering procedure of California Closet is straightforward. You don't need to worry about anything.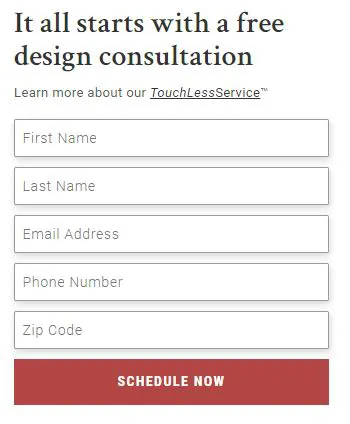 You can arrange an appointment with their expert consultants either by calling them or on their website. Their consultancy service is free of cost. After the appointment is fixed, the company sends a local expert consultant to your home, to discuss everything like what is your design ideas, how big, and small the space is, take the proper measurement, and give suggestions to utilize the whole space properly, etc.
They have CAD design software, which can present the design in 3D that looks real and you can alter it any time you want. 
Trust me the overall procedure is going to be headache-free and you feel relaxed and confident that your dream closet will be totally worth every penny, that you are going to spend.
When the design is finalized, you can see the actual computer-generated 3D design in your empty space which is amazing.
Inspired Closets Ordering Procedure
The ordering procedure of Inspired Closet starts with scheduling a free consultation service by filling up a very simple online form. You can also call them on this number (630) 422-1336 for the same.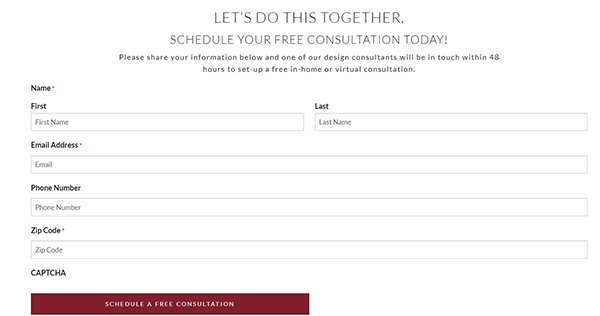 Inspired closets arrange a design consultant within 48 hours of your appointment. A design expert visits your home at your favorite time. If this is not possible then arrange a free virtual consultation. 
A design expert negotiates your design ideas and gives some suggestions for improvement. You can choose a different layout, colors, and finishes. 
You can also visualize the actual product by the 3D rendering of your custom closet. When the design is finalized, the preparation for the physic makeover takes some time. 
---
Delivery And Installation Procedure
Once your order is prepared and packed, both the brands delivered their products within a few weeks of ordering. 
Once the order is delivered their installation staff visits your home for a complete installation. Inspired closet technicians also help in removing the existing closet system from your home, and also help in preparing the wall areas for a fresh installation.
California closets doesn't offer this facility to its customers. Homeowners need to clean the installation area and have to remove the existing closet system before the installation. 
Pricing
California Closet Pricing
The pricing depends on several factors such as the design complexity, the size of the system, material, hardware accessories, etc. Roughly a California closet will cost you from $3000 to $10,000+.
Inspired Closet Pricing
The inspired closet is not as popular as the California closet. The good thing is you can see the price of their pre-build design on their website. Their closets and other products will cost you from $1000 to $10,000+ depending on the design, size, material, and many more other factors. 
---
Warranty
Warranty of California Closet
California closet offers a limited lifetime warranty for their closets as long as you own the home and the closet system remains in the place where it was installed. 
Warranty of Inspired Closet
The inspired closet offers a limited lifetime warranty to its residential buyers and one year of a limited warranty to its non-residential buyers. 
---
Which One Is Worth Buying (Inspired Closets Or California Closets)
I've cleared every single detail above about these two popular brands, still, you are confused about them. Let me clear your doubt in a nutshell in this section. 
California Closet is a very reputed brand and more popular and trustworthy than Inspired Closets. California Closets doors, windows, closets, and other products are designed and manufactured using high-quality material. 
The quality, brand reputation, and advertisement make their products costlier than other brands. California Closet has a huge collection of aesthetic, and appealing designs and patterns, which is missing in Inspired Closets.
If your budget is limited then go with inspired closets and if the budget is not a thing to consider then the California closet is the best choice for your home. 
---
FAQ
Q.1 What is the difference between California Closet and Inspired Closet?
Ans: California Closet products are manufactured using premium materials and workmanship. Their quality is better than other companies. They are well known for their quality and durability. However, you have to pay more for their products. 
On the other hand, Inspired Closets are affordable and budget-friendly. You don't need to remove the existing closet on your own, their expert technicians take care of that, which is missing in California closets. 
Q.2 Which Brand Is Cost Effective between California Closet And Inspired Closets?
Ans:  California closets has numerous aesthetic, traditional, and unique design, texture, and patterns that are eye-catching and unmatchable. Every single penny you will invest in the California closet gives you satisfaction and better after-sale service.
Inspired Closets has a very limited design on its website. You missed out on the variety that you will get in the California Closet. If you are on a tight budget then go with Inspired Closet. 
Q.3 Which One is More Trustworthy Inspired Closet Or California Closet?
Ans: California closet is the most popular brand in the home decoration and organization marketplace. The inspired closet is also a popular brand but not as popular as the Califonia closet. California closet is more trustworthy due to its amazing services, a huge variety of different designs, patterns, and textures, and its decent after-sale services.